One of the most common questions that I get from Keto beginners is how they can eat more fat to hit their fat macros.  In this ketogenic beginner's article I'm going to give you over four dozen ideas on how to do just that.
Why would you want to eat more fat on a Keto Diet?
Fat is important on a ketogenic diet, particularly when you first get started.  The dietary fat you eat will help your body transition to burning fat for fuel.
Having lots of options for good dietary fat sources that are not only tasty but high-quality fats will help you enjoy this way of eating and succeed!

How much fat should you be eating on a Ketogenic Diet?
According to my Basic Keto Meal Template, you should have at least a couple of spoonfuls of fat with each meal.
We've been conditioned by years of Conventional Wisdom that has told us "Fat is Bad!", and it can be quite an adjustment to make it a major part of your calorie intake each day.
Luckily, there are so many awesome, flavorful ways to eat more fat! The Keto way of eating is full of great fat sources. With this list, you're bound to find a bunch that will fit into your life.
These fat sources are not all my original ideas.  I asked over a thousand of my keto friends in my Keto Group on Facebook for their tips and tricks too.  You are welcome to join us there too. ~Angela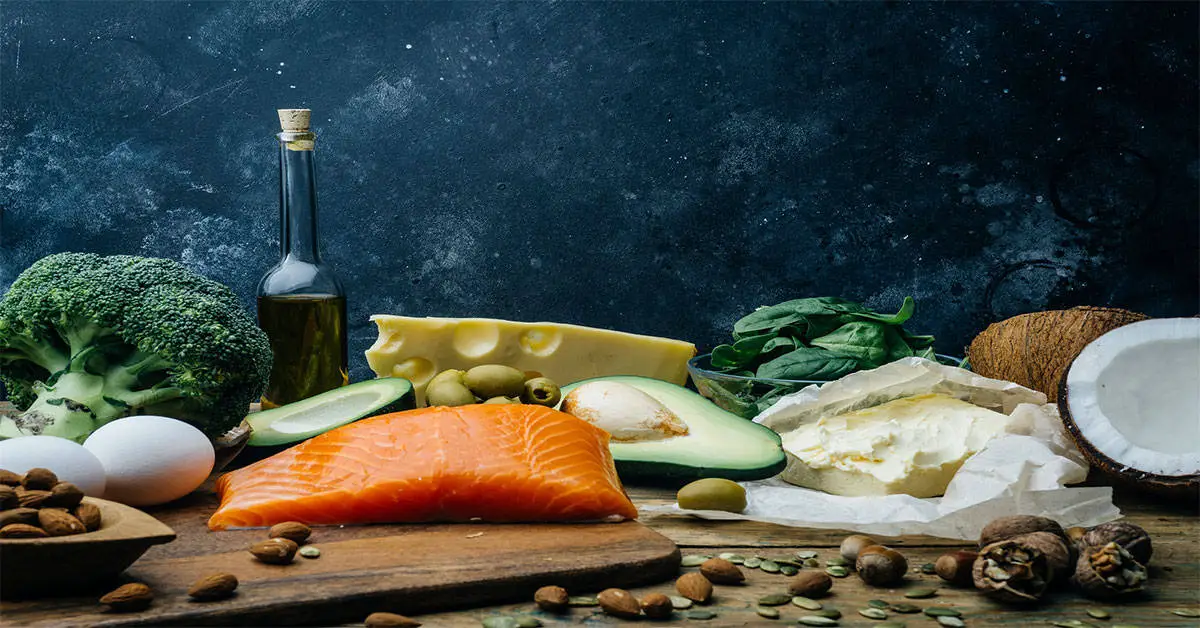 List of 56 Ideas for Great Keto Fat Sources
#1 – Fat Bombs. Usually sweetened with Keto-friendly sweeteners, fat bombs serve to give you a satisfying dose of fat and often help curb sweet cravings, especially when you first start on Keto. This recipe for Peanut Butter Cup Fat Bombs is one of the most popular on my website, and I have pinned a hundred more recipes to my Fat Bombs Board on Pinterest.
#2 – Fat Booster Sauces. Top your meat and your veggies with a great-tasting, fat-filled sauce. There are a lot of ideas for Fat Boosters in this article – the Alfredo Sauce is my favorite!
#3 – Fat Booster Dips. Great with low carb raw veggies like cucumber and celery, we have Keto Ranch Dressing at our house at all time.
#4 – Cheese. Hard cheeses have the lowest carbs. Cubes of cheese make a great side dish.
#5 – Mayonnaise. Make dips with mayo, add spice mixes to create a sauce, or add a dollop to roasted meats or meatloaf. We strongly encourage avoiding conventional mayonnaise, as they are made with industrially processed seed oils and are highly inflammatory. We always use Primal Kitchen Avocado Oil Mayo.
#6 – Guacamole. Mild or spicy, guacamole adds tons of flavor. We love single serving guacamole mini cups that are fast and easy and don't oxidize right away like fresh made guacamole. We buy Wholly Guacamole 100 Calorie Mini Cups at our local grocery store.
#7 – Fresh Avocado. Slice them up and serve them as a side or mash them on top of whatever you're eating. Delicious with pink sea salt!
#8 – Add Butter. To everything. Put butter on your veggies, your meats, and in your fat bombs. Butter from pasture raised cows has more nutrients, omega-3s and better flavor than conventional.
#9 – Try Ghee. If you are sensitive to dairy, you may still be able to enjoy ghee, which is clarified butter, so the majority of the offending proteins have been removed. It's also shelf-stable and oh-so-easy to spread!  If you are not familiar with ghee, here is a convenient affiliate link to Amazon.
#10 Herbed Butter. Let your butter soften to room temperature, then add salt and any combination of herbs and spices you like. One of my favorites is rosemary, tarragon, and thyme.
#11 – Add Olive Oil. On salad greens, to cooked veggies, or with a dash of aged balsamic vinegar on top of fresh mozzarella cheese.
#12 – Drink Fat. It sounds weird but don't knock it until you've tried it. Fatty coffee or tea was one of the main ways I upped my fat intake for a long time. It doesn't have to be coffee – there are lots of ideas in this article.
#13 – Add Cheese. Top your meal with shredded cheese.
#14 – Boiled Eggs. Egg yolks are a great source of fat and hard boiled eggs are fast, easy and portable.
#15 – Bacon. While it shouldn't be all you eat, feel free to enjoy bacon!
#16 – Bacon grease. Save the grease when you fry bacon. You can cook vegetables in it, fry meat in it, add a little lemon juice and salt and use it as dressing on spinach.
#17 – Ground Sausage. Patties, links or cooked into eggs or a casserole. Look at the label and make sure it is super low in sugar. Some brands add more sugar than others.
#18 – Summer Sausage. Fantastic with cubed cheese.

Fattier cuts of meat have more delicious fat already included. All the following are good choices for adding fat to keto and are also very tasty with all that good fat.
#19 – Pork Steak. 
#20 – Pork Shoulder
#21 – Pork Ribs
#22 – Ribeye Steaks
#23 – New York Strip Steaks
#24 – Beef Skirt Steaks
#25 – 80/20 Ground Beef.  Give the meat 10 minutes rest time to stabilize that tasty fat within the meat.
#26 – Lamb Chops
#27 – Roasted Duck
#28 – Chicken Thighs. With the skin is best – there's lots of flavor, fat and nutrients in there. We make these simple Baked Chicken Thighs on the regular at our house.
#29 – Salmon Fillets. Wild-caught salmon is not actually high in fat, but the fat is does contain is high in omega-3s, and these are an essential fatty acid that most of us don't get enough of.
#30 – Canned Salmon. Canned salmon is just as high in nutrition as fillets, not as expensive and more versatile.
#31 – Keto Ice Cream. High quality Keto ice cream should be high in fat and very low in carbs. Make your own with almost zero carbs using my easy Low Carb Vanille Ice Cream Recipe. The best store-bought I've found is made by Rebel Cremery.
#32 – Add heavy whipping cream to scrambled eggs. A dash of cream adds fat and also makes your eggs fluffier.
#33 – Eat more egg yolks. When I fry an egg, I use the over easy yolk as a dip for steak, ham or bacon.
#34 – Enjoy Charcuterie. Cured meats of all kinds that are often served with cheese, olives or fermented vegetables. These are a win.
#35 – Good salad dressings. Quality matters here. Most conventional salad dressings are made with industrially processed oils and contain lots of sugar, not to mention additives you don't want or need. We use Primal Kitchen Salad Dressings and love them all.
#36 – Keto Coleslaw. Make your own coleslaw dressing with 8 ounces of mayo, 2 tbsp apple cider vinegar, 1 tsp pink sea salt and 2 tbsp of a Keto-friendly sweetener (I use Swerve confectioner's sweetener.) Here is a recipe for Loaded Coleslaw that my family loves and adds even more fat.
#37 – Eat more olives. Only 1 net carb per serving, olives have good monounsaturated fats.

All nuts contain fat. Some contain more carbs than others, so stick to this list of keto friendly nuts and nut products. And still keep track of the carbs!
#38 – Macadamia Nuts
#39 – Almonds
#40 – Almond Butter
#41 – Walnuts
#42 – Peanut Butter
#43 – Coconut Oil. Coconut oil is high in medium chain triglycerides, which is a type of fat that is easily converted into ketones in our bodies. You can cook with it, make fat bombs, and bake Keto-friendly treats with it.
#44 – MCT Oil. Usually derived from coconut oil, MCT oil is the concentrated medium chain triglycerides. Some people like to include it in their fatty coffee. Go slowly, though – it cause digestive distress if you use too much before your body is used to it.
#45 – Coconut Butter. The meat of the coconut, along with the oil, that is pureed. Still very low carb and a good source of fiber, I use coconut butter a lot to make my favorite Chocolate Coconut Fat Bombs. 
#46 – Full Fat Coconut Milk. From smoothies to sauces, from sweet to savory, coconut milk is extremely versatile.
#47 – Cream Cheese. Also very versatile, I use cream cheese in fat bombs, sauces, and even to thicken up cream sauces instead of flour. Roll a piece up in prosciutto for a yummy snack or side dish.
#48 – Roast Pumpkin Seeds in Butter or Olive Oil
#49 – Fried fish. Roll your fish in egg yolks, then crushed porks rinds. Fry in bacon grease, lard or duck fat.
#50 – Pesto. This tasty sauce is made with olive oil, parmesan cheese and pinenuts, all great sources of fat.  Enjoy it on meats or as a dip for Pork Rinds or ParmCrisps.
#51  – Add Tahini. Sesame seed paste is best known for its use in hummus but has many more uses. Try this yummy Tahini and Pistachio Fat Bomb.
#52 – Hemp Seeds. High in fat, fiber and micronutrients, hemp seeds can be added to a salad. Or simmer in coconut milk with cinnamon and Keto-friendly sweetener until it thickens for a porridge.
#53 – Chia Seeds. Soak overnight in heavy cream with Keto-friendly sweetener for a treat similar to tapioca pudding.
#54 – Plain Full Fat Yogurt. No sugar added whole milk yogurt has good fats and good probiotics.
#55 – Mashed Cauliflower. The cauliflower doesn't have fat, but the butter, cheese and bacon in this awesome recipe do!
#56 – Eat Liver Pate. Even if you don't think you like liver, your body will love the nutrients it contains. And pate is mostly butter, so give it a try!
---
Did you find find this keto article helpful? 
Then you will also like these keto article I wrote.  ~Angela
P.S.  I'd really appreciate a comment below letting me know that my article was helpful to you.  Those comments and the shares to Facebook and Pinterest mean the world to me.
~Angela
---