This site may contain links to affiliate websites, and we receive an affiliate commission for any purchases made by you on the affiliate website using such links.
Do you find yourself wondering how to eat more fat on your keto diet? You are not alone.  Like me, you may have added fatty coffee and keto fat bombs, but a little variety would be nice. That's why we started creating Keto Fat Booster Recipes. Fats that you add to your meals in a way that doesn't feel like you're just eating or drinking fat.
People who are new to low-carb, high-fat eating often struggle with how to add more fat to their new keto diet. Dietary fat is vital on a Keto diet, especially for keto beginners. As you switch from burning carbs to fat as your main fuel source, you need a good amount of fat in your diet to help you get into ketosis fast.
Even if you know that hitting your keto fat macro target is essential to your success, the low-fat conventional wisdom makes the mental transition very difficult. While your body is making the metabolic transition from burning carbs to burning fats, your brain and emotions have to do the same.
It can be hard to figure out how to add more fat to your keto diet when you hear the voice of conventional wisdom whispering in your ear. If you're stuck in the low-fat mindset that has been drilled into the public for years, the idea of adding fat can be hard to process.
To make getting enough fat even harder, lots of conventional high-fat foods are also wrapped up in carbs. The struggle is real!
Here at Advantage Meals, we've got you covered.
If your problem is getting enough fat on a keto diet, Keto Fat Boosters are the solution!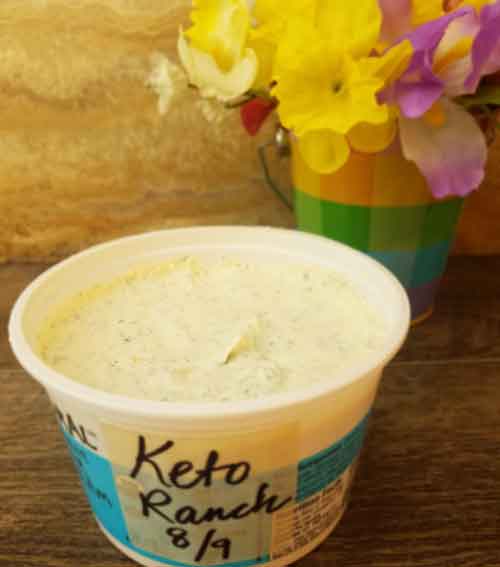 What are Keto Fat Boosters?
Keto Fat Boosters are easy, delicious low-carb, high-fat recipes that help you add fat directly to your meals, usually in the form of keto sauces, dips, and dressings.
All you really need to do to eat a great ketogenic diet is to enjoy all the naturally high-fat foods that you love on your new keto way of eating. If you are missing your fat macro goal, look to these keto Fat Boosters to help you reach your target.
When your regular meals have plenty of nutritious, satisfying fat, you will feel full longer and have less desire to snack between meals. This is ideal for weight loss and general health, too.
Got the Keto Basics?
This page probably contains affilate links.  Advantage Meals is a participant in the Amazon Services LLC Associates Program, an affiliate advertising program designed to provide a means for sites to earn advertising fees by advertising and linking to Amazon.com as well as other affiliate programs.
The No Cook Keto Fat Boosters
When we first started eating a high fat diet, we found that adding a spoonful or two of Primal Kitchen Avocado Mayo on top of our meat was an easy way to get the added fat we needed in our meals.
The Primal Kitchen mayo is high fat, just like regular mayonnaise.  The difference is it's made with avocado oil, which is so much better for us than the damaged fats used in conventional mayonnaise. It is a little pricey, though. As we've said many times before, "Buy the best quality food that fits your budget."  
Avoiding damaged fats is very high on our food quality priorities.
Our second keto fat source discovery was Wholly Guacamole Avocado Mini Cups. These little 100 calorie cups are super convenient and tasty!  We seldom go to a summer potluck that we don't stash some of these babies in Angela's purse as a ready-made Keto Fat Booster to go with whatever low carb foods we can find at the party.
Olive Oil is a great Keto Fat Booster on green salads. We buy the good stuff and prefer the garlic infused oils for dressing up a keto salad.
And fatty coffee is a regular breakfast for many keto dieters. Mix it however you like. Blend butter, coconut oil, or MCT oil (or a combination of all three) into your coffee. Or go the simple route and use heavy whipping cream, which is what we do.
Keto Fat Boosters are more than just Keto Condiments.
While most of our Fat Booster recipes are in the form of low carb sauces, dressings, and dips, Fat Boosters are much more than simply keto alternatives to regular condiments.
In our keto opinion, Fat Boosters should really be a food group all of their own. At the very least, Fat Boosters should be on par with Fat Bombs. Adding fat to your meal (instead of as a snack between meals) is better overall for health and weight loss. The more time between meals, the more your body has a chance to burn your stored fat for fuel!
On your keto diet, you need fat and you should strive to hit your keto fat macro target every day.  Adding that fat in the form of Fat Boosters supplies your fuel, makes you feel satiated, and adds amazing flavor and variety to your meals.
If before your keto way of eating, you would have had ketchup or BBQ sauce with a meal, now you can replace those with a delicious Fat Booster keto condiment instead.  Just remember that you're not only eliminating the sugary condiment, you're replacing it with healthy fat.
All of our Fat Booster recipes are easy to make and keep on hand. They can be added on top of meat or vegetables. We offer Fat Boosters using numerous fat sources to vary the flavor and nutrition.

Advantage Keto Fat Boosters Recipes
Some Keto Fat Boosters take just mixing of a few ingredients, while others take a little cooking. All of the Advantage Keto Fat Booster recipes are super fast and super easy.
Here are the Fat Booster recipes that are tested staples of our keto way of eating. We're working on more Fat Booster recipes all the time and we'll keep updating this list and also put them in the Advantage Keto Newsletter.
---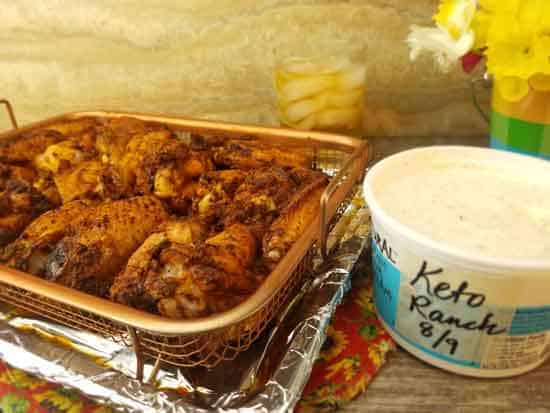 Keto Fat Booster #1 – Low-Carb Ranch Dressing
It's hard to find Keto Ranch Dressing in the store, and when we do find them they are not very good or packed with all kinds of unnecessary ingredients. Our Keto Ranch Dressing Recipe Fat Booster is so much more than just a ranch salad dressing.  We eat as a dip for veggies, hot wings, spicy chicken hearts, and, of course, as a dressing for our green salads.
---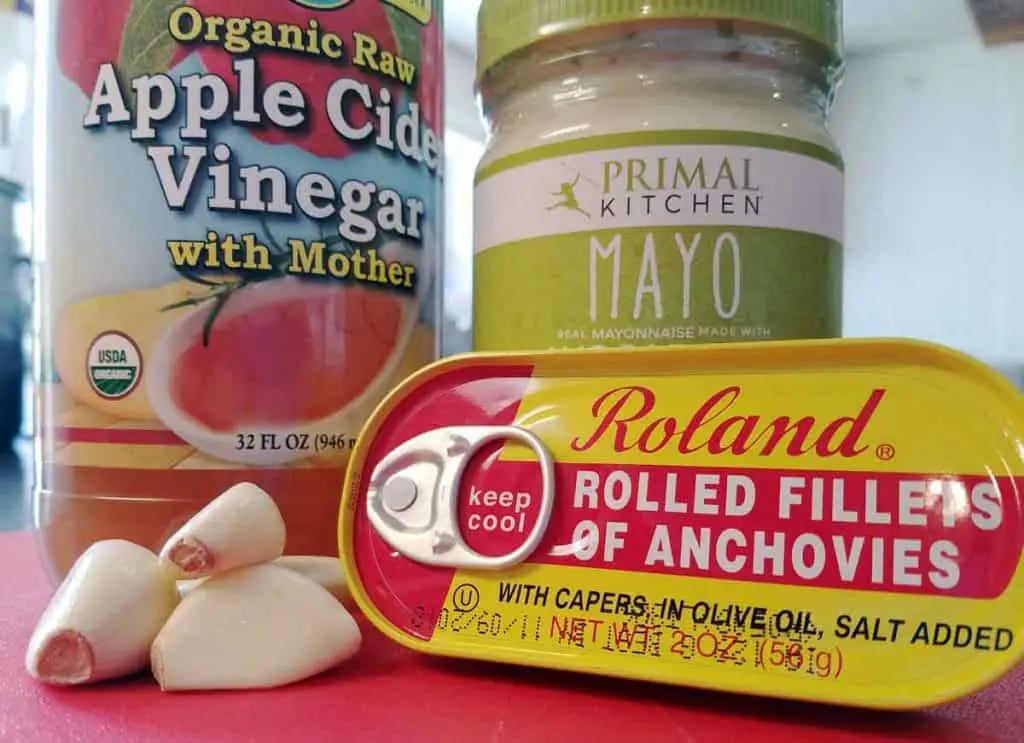 Keto Fat Booster #2 – Low Carb Steak Sauce
I make this Keto Horseradish Steak Sauce for my husband, Stacey. He uses it as a Fat Booster on way more than just steaks. He uses it on all meats and even on veggies sometimes. The flavor is deep and savory.  As an added bonus, it's a great way to add some heart-healthy anchovies to your diet.
---
Keto Fat Booster #3 – Low Carb Alfredo Sauce
Just a handful of simple ingredients and a few minutes on the stovetop, and you'll have an amazing Fat Booster Alfredo Sauce.  We eat this Fat Booster on veggies of all kinds and even on various meats.  This Fat Booster keeps us hitting our keto fat macro target.
---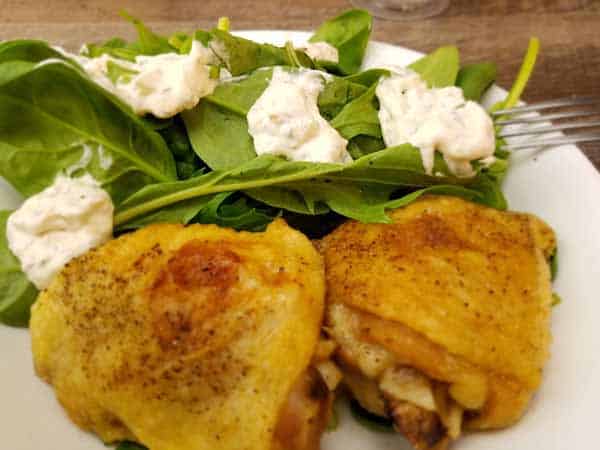 Keto Fat Booster #4 – Low Carb Caesar Style Dressing
Yet another super easy no-cook keto recipe for a fat booster.  You are going to love this Caesar Style low carb recipe that's packed with fat.  We eat it primarily on salad and on vegetables.
---
---
Other ways to add more fat to your Keto Diet
While Fat Boosters are designed to help you add fat to your meals, there are other ways to add fat into your diet.
If you find yourself between meals and you are truly hungry, you may need to grab a high fat Keto snack. Fat Bombs are also very popular, and we love them. We make Chocolate Coconut Fat Bombs every week and we have several other fat bomb recipes you may love also!
You should also be cooking your meats and vegetables in good quality fat. Coconut oil, avocado oil, olive oil, bacon grease and real (not hydrogenated!) lard are all good choices. Top your vegetables with pastured butter, and not only will they taste great, your body will be better able to absorb the nutrients in the vegetables because you are consuming them with fat.
Choosing fattier cuts of meat will also up your fat intake. No need to buy the more expensive, lowered fat content beef, pork or turkey. Get the lower cost, more flavorful, fattier offerings! Choose poultry with the skin. Eat fatty fish like salmon, tuna, sardines and mackerel. Grass fed and wild-caught are best, but as always, buy the highest quality that works for your budget.
If you can't find local grass fed beef, check out one of our sponsors, Butcher Box.  Butcher Box offers high quality meat delivered right to your door and right now they are offering the Advantage Meals community a unique special: Get Ground Beef for Life at ButcherBox. 
Sharing is Caring.  Thank you![social_warfare]
ProTip #1 – Be careful to hit your fat macros.
Just be careful that you don't let these Fat Boosters encourage you to make mistake #9 of the common keto mistakes, "Too much fat".  Know your macros and don't let Fat Boosters or Fat Bombs become a crutch that keeps you from sticking to the Keto Diet Meal Template (below)
After you are fully fat-adapted, you won't need as much dietary fat. You want your body to burn your stored body fat. Eat just enough fat to feel satiated, and let your body burn away those fat stores!
The Advantage Meals Keto Diet Meal Template
A palm-sized portion of protein
A handful of non-starchy vegetables
At least a couple of spoonfuls of fat.
ProTip #2 – Track your Macros…at least for awhile.
Switching from a Standard American Diet (SAD) to a Keto Diet is a major change in your way of eating.  Even with the Keto Diet Meal Template, guessing how much fat you are actually eating is nearly impossible until you have some keto experience.  This article will help you figure out how to track your keto macros.
If you don't want to mess with tracking macros while you are beginning your keto diet, following the No Cook Keto Meal Plan is ideal for getting into ketosis without the hassle.  It's the easiest ketogenic meal plan available and takes all the stress out of what to eat because the macros are all figured for you.
The No Cook Keto Meal Plan is the Easiest way to start Keto.
---
Say Thanks For This Ketogenic Diet Article
I hope you found this article valuable, and if so, I hope you'll share it with others.
Those shares mean the world to me, and help support my work here.
Of course, a quick note in a comment always brings a smile to my face.
Your Keto Friend,
~Angela