Baked, bone-in, skin-on chicken thighs are a staple in our house. Easy, with quick prep time, and delicious, we bake chicken thighs almost every week, whether we are eating a strict Keto Diet or just a clean Primal Diet. 
With juicy, tender meat and crispy skin, these are definitely a family favorite. 
Everyone who is a keto beginner should have a staple of super easy keto recipes in their ketogenic recipe box. 
This super easy, affordable, very low carb / high fat keto recipe will become one of your keto meal mainstays.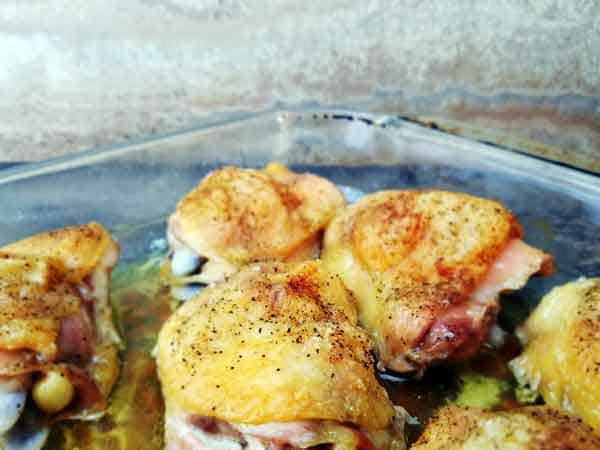 Baked Skin-On, Bone-In Chicken Thighs are also great for making extra to have for lunches throughout the week. One-pan early in the week will provide your keto dinner that night and meal prep for another few days.
If your family loves them as much as mine, you'll make two pans and they'll still disappear in a matter of just a couple of days! Stacey and I both love these for lunch served simply with vegetables topped with butter. The kids take them in their lunch to school and eat them cold.
This is a foundational recipe that anyone can make. If you are just starting out cooking for yourself at home, make sure to try this recipe. It will simplify your life!
If you're a seasoned pro, this simple recipe is a great one for your arsenal.
Buy the best quality chicken you can afford. Eating the whole thigh, skin and all, and cooking with the bone in is already an upgrade in food quality from the boneless, skinless variety. You get collagen and fat in the skin and connective tissue, along with marrow and minerals in the bones. All of these goodies add flavor and nutrition that seeps in during cooking, plus they make the meat you are eating juicier and more tender.
If you can afford organic, pasture-raised chicken, you'll get even more flavor and nutrition. Healthier animals = healthier you. If you have a farmer's market near you, that's a great place to find local, naturally raised meats.
More and more conventional grocery stores are carrying at least organic meats, with some even realizing that people want high quality, pasture-raised. You might need to look toward a more specialized grocery, such as Whole Foods, Natural Grocers, or online ordering from a service like Thrive Market, Butcher Box or U.S. Wellness Meats.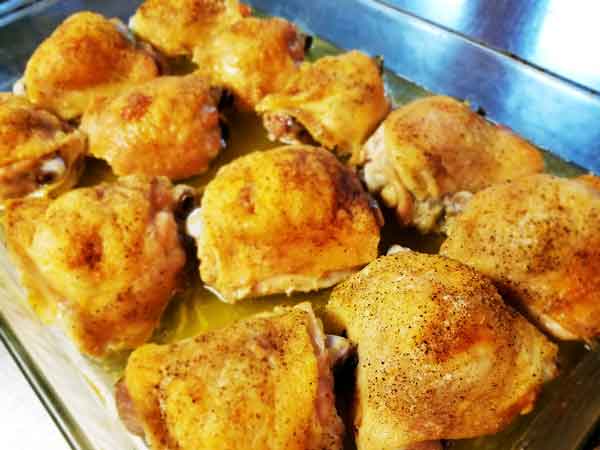 Along the same line, we always use pastured butter. You can't beat the flavor difference. The first time you open a package of pastured butter, the difference in color will amaze you. Cream from cows raised on grass is higher in omega-3 fatty acids and it contains Vitamin K2, not found in conventional butter. And you can tell by the taste, too!
We also use pink salt, which contains other trace minerals besides the sodium.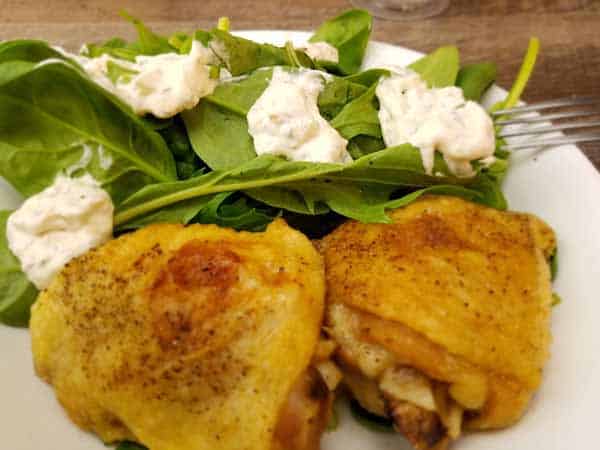 Baked Keto Chicken Thighs with Green Salad and Keto Fat Booster Caesar Salad Dressing.
And when you're done eating, don't throw the bones away! Save the bones for making bone broth. You can throw them in a plastic freezer bag and store them up in the freezer until you have enough to make a batch of broth. For too long, these valuable bones have been lost to us, and their vital nutrition along with them.
You can also save the cooking juices. Those cooking juices are a quick bone broth / fat bomb in and of themselves! Drink it straight, warmed in a mug, either in the morning instead of coffee or in the evening as a relaxing beverage before bed. Or keep it in a jar in your refrigerator and use it throughout the week to cook vegetables, stir into a casserole, as a base for a tasty sauce, or to make soup. Full of protein, including collagen, healthy fat and tons of flavor, it's a shame to throw out the pan juices!
Easy Keto Chicken Thigh Recipe