This site may contain links to affiliate websites, and we receive an affiliate commission for any purchases made by you on the affiliate website using such links.
You are going to love this low-carb, keto vanilla ice cream. It's rich and creamy, right out of the churn, and incredibly easy to throw together. And it won't get rock solid when you put it in the freezer as some low-carb ice cream recipes do. Winning!
Easy Low Carb Recipe
Here at Advantage Meals, we are super fans of easy eating. Easy eating happens when recipes have simple, straightforward ingredients that go together in the fastest, easiest way possible. This awesome keto vanilla ice cream is definitely fast and easy.
Easy Low Carb Ice Cream Recipe
I'm also a fan of ice cream. I haven't eaten much ice cream since I went Keto, though, because all my homemade recipes are traditional and contain refined sugar and I haven't found a store-bought keto-friendly ice cream that I thought was worth a darn.
But sometimes, you just get a craving. And recently, I have been all about the ice cream.
No-Churn Keto Ice Cream or Easy Churn Keto Ice Cream?
I wanted to make ice cream, but I didn't want it to be complicated or take a lot of time. So when I started experimenting with ice cream recipe ideas, I figured a no-churn ice cream would be the way to go. Who wants to mess with an ice cream churn, right? I started under the assumption that using a churn would be more hassle than it's worth. Surely I could find an easy, throw it together and freeze it for a while recipe that would fit the bill.
Trouble is, if you don't churn the ice cream, you have to find another way to incorporate air into the mixture in order to get that awesome creamy texture that is such an important part of the ice cream experience, at least as far as I'm concerned.
Quite a few of the no-churn recipes I found called for simmering the ingredients together and then cooling. In most cases, no-churn recipes require multiple bowls and whisking or beating various ingredients, which then need to be carefully folded together. Then the whole thing has to be frozen for a couple of hours before it feels like ice cream.
Needless to say, these no-churn ice cream experiments were turning out to not be the easy eating I was looking for.
Churned Keto Ice Cream for the Win!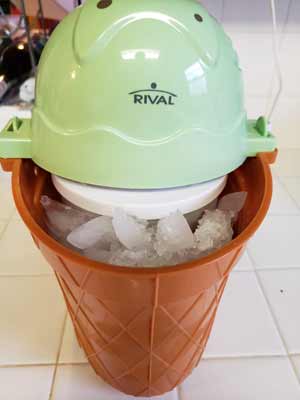 Turns out, a countertop ice cream churn is fast, easy, and incredibly affordable. I was given this churn several years ago and I love how compact it is.
This countertop ice cream freezer is nothing like the huge bucket churns from my childhood. This baby is easy to set up, doesn't take much ice, doesn't make a mess with melting ice, sits easily on my kitchen counter, and gets the job done quickly. With a churn, I can literally throw all the ingredients into a blender cup, mix, and put it into the churn. In 15 minutes, the churn is done and I'm scooping ice cream into a bowl. That's what I call easy keto ice cream.
Ingredients & Tools for this Easy Keto Ice Cream Recipe

This easy recipe calls for 2 cups of heavy cream and makes 8 servings of about 1/2 cup each. You can easily make half a batch and the churn still works great. Or if you have a crowd, double the batch and give it an extra 5-10 minutes after you plug it in to churn.
A note on serving size and making extra. This amazing ice cream is almost zero carbs, so you can enjoy it and know that it will not knock you out of ketosis! It is also high in calories, though, so make sure you avoid Keto Diet Mistakes #9 and #10. If you are trying to lose weight on a keto diet, you can still eat too much of a good thing.
I suggest freezing your low-carb ice cream in small portions, and these individual serving containers are great. They are freezer and dishwasher safe. And you can also eat your ice cream straight out of the container, which let's be real, is going to happen. At least at my house!
Depending on your freezer, this ice cream may freeze solid, just like store-bought ice cream. If it's difficult to scoop, let it sit on the counter for 10-15 minutes. It will return to it's creamy, spoonable goodness!
This recipe is included in our Low Carb Thanksgiving Recipes…It goes great with other Keto Desserts!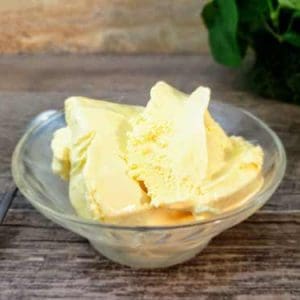 Super Easy, Creamy, Keto Vanilla Ice Cream
Rich and creamy, this very low carb vanilla ice cream recipe is delicious and keto-friendly.

Print
Pin
Rate
Instructions
Before you start mixing the ingredients, put the ice cream churn canister and paddle in the freezer. Your ice cream will churn much faster if the equipment is cold when you start.

Combine heavy cream, sweetener, egg yolks, vanilla and MCT oil (or liquor, if using – see Recipe Notes) in a blender and mix well. I used a stick blender but a traditional blender works just fine, too.

Pour the mix into the cold canister.

Churn the ice cream according to the manufacturer's instructions. If you're using the same model as me, here's what I did! Place the canister in the churning bucket and attach the lid to the paddle and canister. Make sure everything is lined up correctly, then place the motor on top, turning the latches on the sides to lock it in place. Fill the bucket halfway with ice – I just used ice cubes from my freezer's ice maker. Top with a layer of ice cream salt. Fill to the top of the canister with ice and another layer of salt. Plug the ice cream churn in and let it go to work!

After 15 minutes, unplug the churn and check the ice cream. If it's not the right texture yet, put the lid back on and churn again until desired consistency is reached.

Ice cream will be the perfect soft serve texture straight out of the churn.
Notes
If you plan to serve the ice cream right away, you don't need the MCT Oil. However, I found that when the ice cream was frozen for more than 4 hours, MCT oil was the best way to keep the ice cream from crystallizing and turning rock solid.
If you don't have MCT oil, hard liquor will also keep the ice cream from freezing solid. It will still crystallize, though, so this was not my first preference. In a pinch, though, it gets the job done. Stick to vodka or brandy, which have the least effect on the flavor, though they do both change it a bit.
ProTip – The Stick Blender we use in this keto recipe is included on our Keto Christmas Gift Ideas List. Up your Keto Diet in 2019 with a Christmas wish list that supports your way of eating.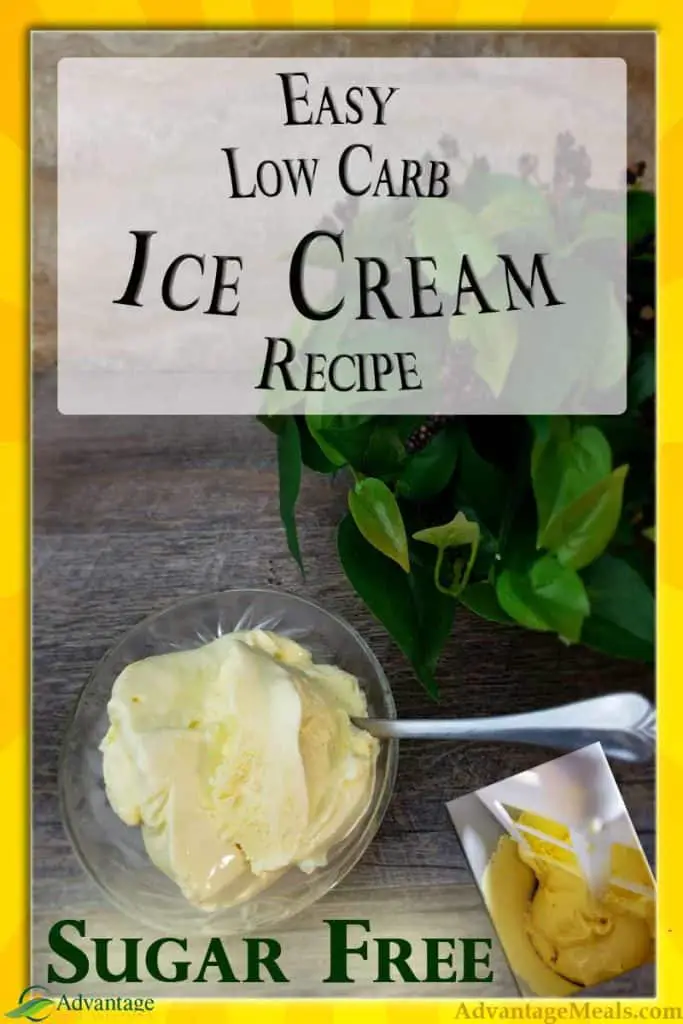 Nutrition – Not laboratory tested.
Nutrition Facts
Super Easy, Creamy, Keto Vanilla Ice Cream
Amount Per Serving
Calories 252
Calories from Fat 243
% Daily Value*
Fat 27g42%
Cholesterol 130mg43%
Sodium 25mg1%
Potassium 50mg1%
Carbohydrates 1g0%
Protein 2g4%
Vitamin A 940IU19%
Vitamin C 1mg1%
Calcium 44mg4%
Iron 1mg6%
* Percent Daily Values are based on a 2000 calorie diet.
Love this recipe?
Please give it a rating in the comments below!