One of the most common keto questions we hear goes something like this: "Help! I'm starting the Keto Diet tomorrow and I'm going to the grocery store tonight. What do I buy?" This ketosis shopping list outlines our Top 15 16 essential items that should be on every beginner's Keto shopping list (printable shopping list available at the bottom of this article).
This keto shopping list will get your ketogenic diet started off right and will make sure you have the basic essentials to get you through those first challenging days of a new keto diet.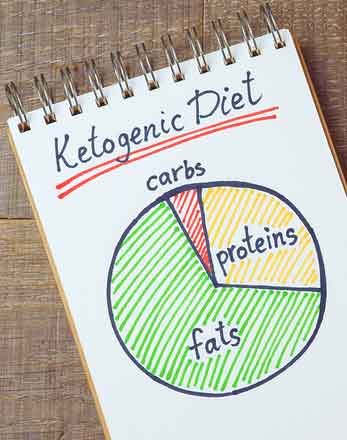 First, a quick brush up on the basics of eating for ketosis.
You know that a Ketogenic diet is very low carb, high fat, and moderate protein.
Generally speaking, that means a good Keto meal will include a palm-sized portion of protein, a handful of non-starchy vegetables, and at least a couple of spoonfuls of fat. Set your meals up around this ketogenic profile, and you'll be producing ketones in short order and on your Keto way!
ProTip – Want a more detailed description of the Keto diet? Make sure to read our article What is the Keto Diet and Why Does it Work?
Top 16 Keto Shopping List Must Haves
Butter – Grass-fed is ideal, has the most nutrition and tastes the best. If you need to go conventional, just make sure that it's real butter. No margarine, buttery spreads or other fake options. Salted or unsalted, your choice. Use for cooking meats and vegetables and for melting on top.
Bacon – From pastured hogs is ideal but hard to find. We use Garrett Valley No Sugar Uncured Bacon. Thick or thin, your choice. Avoid maple flavored, or any with added sugars. Fry and eat with eggs or dice and use as flavoring for vegetables. Always save the grease! Keep it in a jar by the stove and use the grease for cooking meats and vegetables. Our grandmas knew what they were doing back in the day!
Mayonnaise – We use Primal Kitchen Avocado Oil Mayo. Conventional mayonnaise is made with industrially processed oils that are inflammatory, so we avoid them. If you need to go conventional, just make sure it's real mayonnaise, not Miracle Whip or light mayo. Add seasonings and use as a dip for vegetables or a sauce to top meats. Great for making Keto Tuna Salad and Keto No Potato Salad, too!
Olive oil – cold-pressed, extra virgin olive oil is best. Use it for cooking or for topping vegetables. Top salads along with red wine vinegar, salt and pepper. Make a dip for raw vegetables with a combination of olive oil and balsamic vinegar, salt and pepper.
Avocado – This amazing fruit is high in fat and fiber and low in net carbs. We eat them every day in lots of ways! Avocados are on the "Clean 15" list and have some of the lowest pesticide residue levels, so buying organic is not as important, which makes them more budget friendly. We often scoop out half an avocado and serve it on top of meat, along with salt and/or seasoning mixes. Guacamole makes a great dip for vegetables, pork rinds or parmesan cheese crisps, and we love the convenience of Wholly Guacamole Mini Cups, and they come in Classic, Spicy and Simply Avocado. Or you can also use them to make this fantastic Keto Avocado Mousse Recipe!
Cheese – If you tolerate dairy, cheese is an incredible keto food. Full fat, organic, made from milk from grass-fed cows is best. Cheese does have a small amount of carbs, but hard cheeses have the least. Cheddar, colby, gouda, bleu, brie, swiss, parmesan, mozzarella are all 1 g of carbs (or less) per 1 oz. serving. Be careful with higher carb options like cream cheese, cottage cheese and ricotta cheese. Don't overdo the dairy. Too much can cause constipation even in people who tolerate smaller amounts well.
Eggs – For our money (and yours!) eggs are one of the best and most affordable protein choices available. With both protein and fat, ease of use, flexibility, and cost, eggs are a great choice. Free-range is best, with significantly higher vitamin and mineral content than conventional eggs. Bonus points if you buy them from a local farmer at the farmer's market! Fry them with bacon, scramble them with vegetables, hard boil them, and add them to salads.
Ground Beef – Grass-fed and organic if you can afford it. Buy the highest fat percentage! Incredibly versatile, you can combine ground beef with just about any seasoning mix and create a multitude of different meals. If grass fed beef fits within your budget, check out one of our great sponsors ButcherBox. They can deliver quality beef right to your door.
Chicken Thighs – Cage-Free organic if you can afford it. Buy the bone-in thighs with skin and you'll get more flavor and nutrition, plus they cost less than the boneless, skinless version. We regularly bake them with butter tucked under the skin and salt and pepper to make a super easy crispy baked keto chicken thigh.
Pork Roast – Pork roast is full of good fat and is one of the most affordable meat choices. Buy the whole shoulder roast, or get it as 'country style ribs'. Pork roast is great for making a bunch of pulled pork and freezing it in smaller portions to be dressed up later as casseroles or eaten just as pulled pork with some guac.
Broccoli – On the Clean 15 list, so conventionally grown is fine. There are so many ways to eat broccoli. Raw dipped in olive oil or keto ranch dressing, steamed and topped with butter, in stir-fry with beef, in salad with eggs and mayonnaise. Highly nutritious and very low in carbs.
Cauliflower – Also on the Clean 15. Similar to broccoli in its versatility but with the added benefit of a milder flavor and the ability to finely dice, making "riced" cauliflower. You can rice your own cauliflower or buy it already riced in the freezer section. Riced cauliflower can be a direct substitute for white or brown rice, and makes a great carrier for butter or other fat. It can be used in lots of keto-friendly recipes for everything from mac and cheese to pizza crust.
Spinach – Dark, leafy greens are on the "Dirty Dozen" list, with some of the highest pesticide levels, so organic is the way to go here if you can. Use it raw in salads, saute it with olive oil, bacon or butter, top it with any seasoning that appeals to you! Frozen spinach is often cheaper and convenient to use but just as nutritious. Avoid canned, as it loses nutrients and flavor in the canning process.
Kale – Another Dirty Dozen member, so buy organic if you can. A nutritional powerhouse full of micronutrients and fiber, we love kale that is braised (slow cooked) with bacon, a little onion and bone broth.
Coconut butter – Coconut is not on the Clean 15 list, but only because it's not prevalent in the Standard American Diet (SAD). Research on pesticide residue has shown very little, though, so organic is not as important. It also is a big source of Medium Chain Triglyceride fatty acids, which is a type of fat that is easily absorbed and more easily promotes ketone production. Some people prefer coconut oil since it has the benefits of MCTs without the small amount of carbs in the whole coconut puree. However, I am sensitive to refined coconut products and don't feel good when I eat them, and a lot of other people are, as well. Coconut butter is still versatile and also has beneficial fiber. Eat it straight out of the jar, add it to curry sauce to thicken or make fat bombs. We make these Chocolate Coconut Butter Keto Fat Bombs on a weekly basis!
Cacao powder – Different than cocoa powder (which is what's in Hershey's, for example), cacao has not been heat treated and maintains more nutrients. One of those is magnesium, which is especially important on a ketogenic diet. So eat some chocolate every day! If you like peanut butter cups, you could try this Keto Peanut Butter Cup Fat Bomb.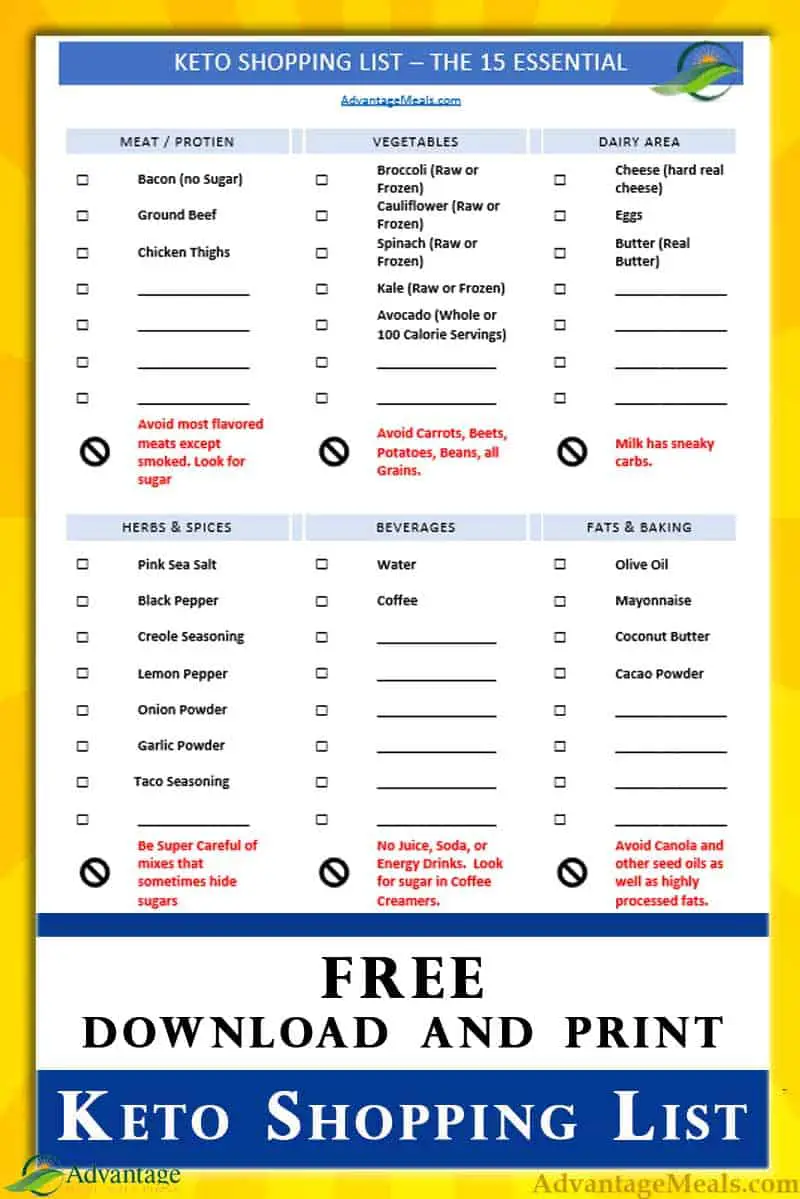 Want to download this Keto Essentials Shopping List?
Sign-up for our newsletter below to get my FREE Simplified PDF Version of the Advantage Meals' Keto Shopping List above. Once downloaded, access the Keto Shopping List on your phone or print it to take to the grocery store.
Want a more complete Keto Shopping List?
We made a Budget Friendly Keto Shopping List that expands the essentials listed above from 15 to over 50 staple keto items.
This list is literally a list of what that we stock in our kitchen all of the time. Sure we have some other things, but even when money is tight, these are the ketogenic grocery items that we aim to keep on hand.
These staple items will help you get into ketosis fast and stay there while being very budget-conscious. It's only $3 and those dollars help support our work here. Learn More Now
---
Looking for the easiest way to start keto?
If you're overwhelmed by the keto diet, you are not alone.
Let us do all the planning and end the keto guesswork for you!
My No Cook Keto Meal Plan was written to make Keto Easy.
It includes menu planning, shopping list, no-cook keto recipes, macros, and everything you need to be successful as you start your ketogenic journey.
After your three week transition into ketosis, we'll help you upgrade your keto diet to maintain your success for lifeClick Here to Learn More about No Cook Keto
---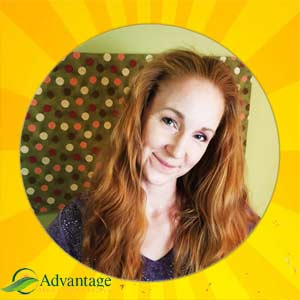 Angela Davis
Founder Advantage Meals
Angela earned her Master's Degree in Holistic Nutrition 14 years ago and began her lifelong journey of nutrition and wellness learning. She began keto meal planning and cooking over a decade ago when she began working with local clients who were under the direct supervision of a medical doctor. Angela is the author of No Cook Keto, the easiest keto meal plan available.
Disclaimer: I am neither a licensed nutritionist nor a medical professional. I never prescribe diets. I only share my personal experiences and those of my clients for informational purposes only. Nutrition details are provided for informational purposes only, and should not be considered medical nutritional data. You should consult your medical professional before making any major changes in the way you eat.