No Cook Keto
The Easiest Keto Meal Plan Available.
Short and concise.
Everything you need to get started on Keto right away.
Basic Keto information included.
3 Week Meal Plan with over 30 Recipes and Shopping List.
No Cooking!  Every recipe is ready to eat in 5 minutes.
No tracking! We've figured all the macros and planned it for you.
No Stress, No Fuss.
At the end of these 3 Weeks, you'll be in Ketosis and on the Keto Diet.
Buy "No Cook Keto" now, and get into ketosis fast.
Do you find the Keto Diet complex and confusing?
No Cook Keto makes getting into Ketosis fast & stress-free in just three weeks.
This is the easiest keto meal plan because I've done all the planning for you.  I've designed no cook meals that are keto optimized and super easy to prepare.  Most meals are ready in about 5 minutes; simply Mix, Microwave, Eat.
Keto doesn't get easier or faster.
Who am I?
I'm Angela Davis, Co-Founder of Advantage Meals with my husband, Stacey.
Fourteen years ago, I earned a Master's degree in Holistic Nutrition at Clayton College and began my life long continued education in nutrition and wellness.
Since then, I've been advising local clients in health, teaching nutrition and cooking skills, and providing healthy, home-cooked meals through our family Meal Solutions Business, Magic Meals Home Delivery.
A decade ago I was introduced to the Ketogenic Diet by a local medical doctor who wanted our assistance helping one of his patients escape obesity. 
Now, I'm offering to share my years of keto experience with you.
To be clear, I am not a licenced nutritionist nor medical professional, but I do have more hands-on-experience with the keto diet than most. I never prescribe diets, I only share what has worked for me and what I've seen work for countless clients, friends, and family.
That said, I'm very proud of No Cook Keto.
I have shared my decades of experience in this clear and concise keto meal plan. No Cook Keto is respectful of your time and money. It's not fancy, nor long. Instead when you purchase it, you can immediately download the meal plan in PDF format.  Inside you'll find just what you need, when you need it, to make getting into ketosis as fast and easy as possible.
Local clients pay me up to $14.99 per meal for our prepared keto meals.  For the cost of a single meal, you get a meal plan that will get you started with the keto diet in three easy weeks. At the end of it, if you don't feel like you've gotten your money's worth, send me an email and I'll quickly refund you the $14.99, no questions asked.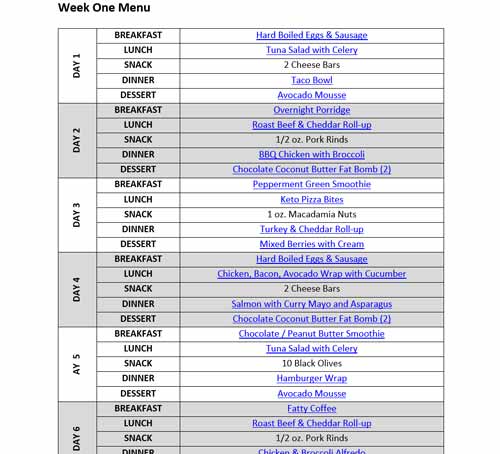 Sample One Week Menu from No Cook Keto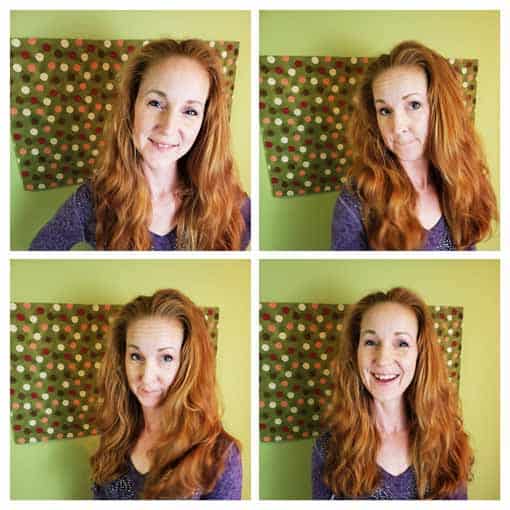 Angela Davis: Co-Founder of Advantage Meals and Magic Meals LLC
Sample Page from No Cook Keto
What do you have to lose, except those pounds that you've been trying to lose for years?
BONUS
With the meal plan, you also get the 3 Week Keto Support Emails for free.
The Support Emails are basically a simplified Keto Diet Course. The emails are designed to effortlessly build upon your keto knowledge in just a few minutes during each day of your three week No Cook Keto Meal Plan.  With the combination of the Keto Plan & Keto Support Emails, at the end of three weeks, you'll know if you want to continue keto and how to do it.
Do you want a sample of No Cook Keto?
I don't blame you.  Get a FREE 10 Page Sample when you signup below.
No Cook Keto & Keto Support Emails for just $29.99
60 Day Money Back Guarantee. No Questions Asked.