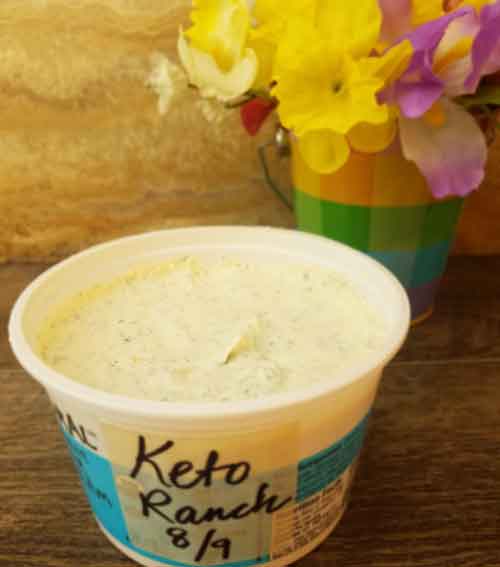 Have you been searching for a Keto Ranch Dressing recipe or brand?
In our experience, Keto Ranch Dressing brands are few and far between, and none of them are very good. This Keto Ranch Dressing Recipe Fat Booster is so much more than a ranch salad dressing. I originally came up with this ranch recipe as a dip for my kids to help them eat their vegetables. Dips make everything better! Now I've converted it to be Keto Ranch Dressing recipe and an Advantage Meals Fat Booster.
As with all of the Advantage Meals Fat Boosters, our Low Carb Ranch Fat Booster is also high fat, making it a great way to add healthy, satisfying fats to your diet when you remove carbs. The fact that it is such a classic American flavor makes it very comforting during the two to seven days that your are making the transition into ketosis, too.
We love this Low Carb Ranch Dressing on green salads, with vegetables as a dip our sauce, and with homemade hot wings. The dry seasonings are adapted from a recipe by Gimme Some Oven, but I omit the buttermilk powder and add apple cider vinegar for little zing to my simple Keto Ranch Dressing recipe.
An Even Easier Keto Ranch Dressing Recipe?
And for the times when life doesn't cooperate and mixing up a batch of your own seasoning doesn't work for you, there are recipe notes for a "Dirty Keto" version. Because nothing really replicates the flavor of MSG that you get in the name brand version. You'll improve the fats by making it at home, and if the store-bought seasoning mix is what gets you through and still Keto, go for it. I know I do sometimes!

| | |
| --- | --- |
| | |
If you are using an 8 oz. container of sour cream, scoop it into a mixing bowl. I usually end up making a batch of this Keto Ranch with a half-empty 16 oz. container, so I just throw everything together in that container! Add the cream and apple cider vinegar. Mix to combine until smooth. Add dry ingredients and stir to combine.
Nutrition Facts
Keto Ranch Dressing Fat Booster
Amount Per Serving
Calories 31
Calories from Fat 27
% Daily Value*
Total Fat 3g 5%
Polyunsaturated Fat 0.01g
Monounsaturated Fat 0.02g
Cholesterol 9mg 3%
Sodium 105mg 4%
Potassium 35mg 1%
Total Carbohydrates 1g 0%
Protein 1g 2%
* Percent Daily Values are based on a 2000 calorie diet.
If you'd like your Ranch Dressing thinner, you can simply add more cream, which will add a small amount of carbs, if you're macro tracking very closely. Alternatively, you can add more vinegar. Go slowly, as this will change the flavor. A third option would be to thin using chicken broth - bone broth if you have it! If you're not making home-made broth, then purchase the best quality that fits your budget. The bone broth from the The Osso Good Company is by far the best commercial bone broth that we've found.
For the down and dirty, quick, more-like-store-bought version, omit the dry ingredients and the apple cider vinegar. Instead, use one packet of Hidden Valley Original Ranch Seasoning Mix. Taste. You may decide to go ahead and include the vinegar if you want more buttermilk-like zing.
If you liked this low carb recipe, you might also like these keto recipes.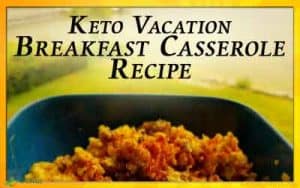 Keto Vacation Breakfast Casserole
No Bake Chocolate Cranberry Cookies - Low Carb, Paleo, Primal
Easy Pulled Pork Recipe - Keto Meal Prep