Most people who start a keto diet fail because they find the diet to be complex and confusing. It doesn't have to be that way.
---
My No Cook Keto Meal Plan & Keto Email Course makes starting keto stupid simple. ~Angela
---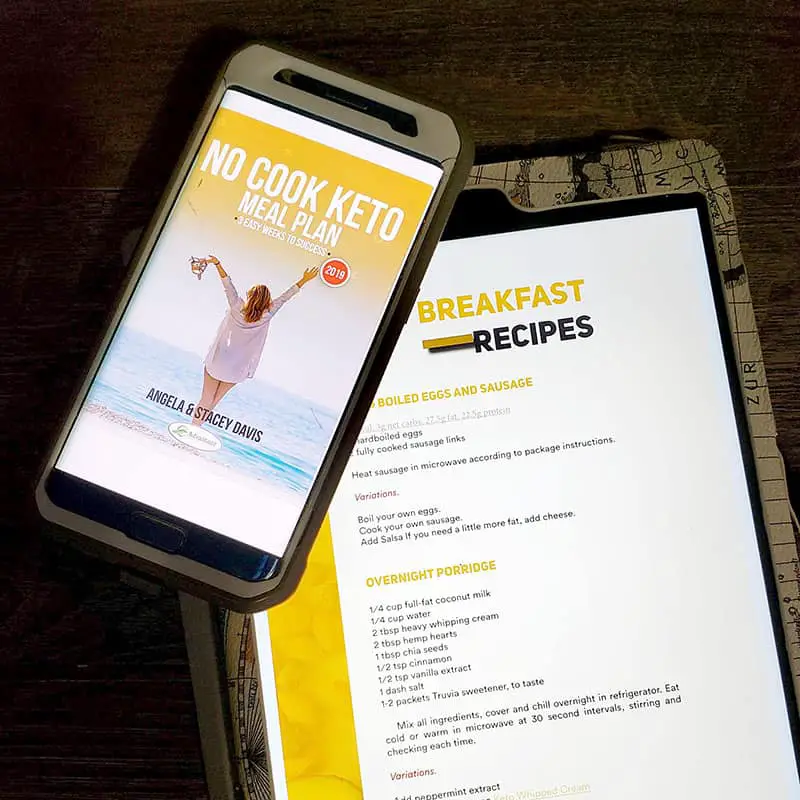 ---
Starting a Keto Diet without any help is possible, but unfortunately, most people who go it alone will fail for one of the following reasons:
Fatigue from countless hours of research required,
Stress of meal planning for a brand new way of eating,
Common mistakes caused by confusing and misleading information that doom so many keto beginners to failure.
---
You can avoid all of these pitfalls while effortlessly starting keto with the No Cook Keto Meal Plan.
---
I understand the frustration and embarrassment of starting a diet and failing through no fault of your own. I've been there. I've experienced that embarrassment. I don't want that to happen to you again.
---
---
With No Cook Keto you'll learn to start Keto in 3 Easy Steps:
---
I created my No Cook Keto Meal Plan because I have had so many friends who really struggled to be healthier & happier, and their roadblock was their weight struggles.

I know from my own personal experience that a ketogenic way of eating is the easiest way to reach those goals, but the problem is that starting a keto diet is complex & confusing.

The No Cook Keto Meal Plan & Keto Email Course is designed to simplify your first three weeks of keto, helping you experience the joy of success and see a clear path to a better you.

You can do this..all you need is a guide. I can do that.
---
What Users Say About No Cook Keto:
"Trust me I was in the same position as you, and here I am still doing it day 20, there has been a day here or there where I sort of "cheated" but honestly I felt horrible because I overate. Keto food keeps me full and once you start doing keto the old ways will not make you feel good. I wish I had started sooner."

Mamoona
---
"I'm doing the 3 Week No Cook Keto Diet and it's a godsend. It helped me quickly start and learn about keto as I go along. I'm loving it. One week = 8 lbs!"

Pam
---
"I purchased your book and I am on day 5 of the 21 day No Cook Keto Meal Plan.  I have really found the meal plan easy to adhere to so far and I feel good."

Sarah
---
[hurrytimer id="44754″]
Choose The Option That Fits Your Needs & Budget