Easy & Fast Keto Caesar Dressing Recipe
This incredible Fat Booster is a staple in our household. With a flavor profile very similar to Caesar salad dressing, this Keto condiment is so much more than just dressing! To make it even better, it's one of the easiest and fastest keto recipes you'll find. This is another great no cook keto recipe.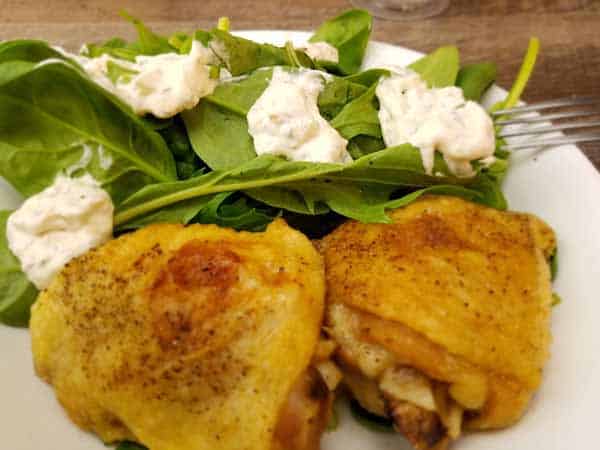 Crispy Baked Chicken Thighs & Green Salad with Fat Booster Caesar Dressing
Our Keto Caesar Fat Booster can be drizzled on salad, sure. But why stop there? You can spread it on chicken, pork, or meatloaf. You can mix it with canned tuna for a zippy tuna salad. You can mix it with canned salmon and serve on top of cucumber slices for a crudite. You can dip vegetables in it. There are so many fabulous ways to enjoy this keto fat booster while making sure that you hit your fat macro target.
Please, leave us a comment below telling us how you plan to use this Keto Caesar Dressing.
Want to know more about Fat Boosters?

In this article, we explain what Fat Boosters are and why you might need them.
| | |
| --- | --- |
| | |
Drain the anchovies and capers. If packed in olive oil, you can add it to your dressing if you like. Finely mince. Mince garlic. Stir all ingredients together. We leave ours thicker, as we tend to use it most as a topping for meat. If you want to thin it a bit for salad dressing, add extra vinegar.
Nutrition Facts
Caesar Style Dressing
Amount Per Serving
Calories 72
Calories from Fat 72
% Daily Value*
Total Fat 8g 12%
Polyunsaturated Fat 0.002g
Monounsaturated Fat 0.0001g
Cholesterol 16mg 5%
Sodium 219mg 9%
Potassium 3mg 0%
Total Carbohydrates 0.3g 0%
Protein 1g 2%
* Percent Daily Values are based on a 2000 calorie diet.
I usually make this fat booster about once a week. If there is a partial jar of plain primal mayo in the fridge, I often just throw the other ingredients in the jar and stir or shake to mix. So easy!
Primal Kitchen Avocado Mayo is our go-to mayonnaise. No industrially processed seed oils and no sugar!
Roland Rolled Fillets of Anchovies with Capers work nicely in this recipe.
We always use Bragg's Organic Raw Apple Cider Vinegar.
Did you like this keto recipe?
Then you'll probably like these too.
Peanut Butter Fat Bomb Recipe
Keto Alfredo Sauce Recipe - Gluten Free, Low Carb, High Fat
Bacon, Spinach and Strawberry Keto Salad Recipe
Easy Keto Recipe - Baked Chicken Thighs