This site may contain links to affiliate websites, and we receive an affiliate commission for any purchases made by you on the affiliate website using such links.
I didn't like liver.  Honestly, I hated the taste and texture of liver.
The taste was too strong and the texture is just weird.
Eating liver is good for you…and me.
I know I should eat more liver, so over the years, I have experimented with numerous ways to prepare beef liver.
This is hands-down my favorite keto liver recipe.
Keep in mind that this recipe is also great for Primal, Paleo, Whole 30, and any whole food nutrition-dense diet.  And on Keto, my cravings for particular foods are strong. I know when I crave liver, it means there are some nutrients that my body needs now.
Whip out one package of beef liver and one package of bacon from the freezer, and I'm satisfying my cravings with a great ketogenic meal.
Aside from bacon, onions, mushrooms, and butter providing some serious flavor and balancing out the liver, there are some secrets to why this is my favorite.
First, don't skimp on the salt.
It's really important and not as bad for us as previous recommendations might have cautioned.
Second, don't overcook liver.
I don't want mine rare or anything, but a little bit of pink goes a long way. Overdone liver is about as appetizing as a boot heel. And about as easy to chew.
Side note – I've tried to get my kids to eat liver from a young age. For a long time, they were both resistant. So I never pushed too much. They each had to have at least one bite of liver off my plate. They made the obligatory faces and protested but managed to get it down.
In the last year or so, though, the story has changed. Not only do they not protest the one bite, I can usually get them to take two.  LOL
When I made this recipe last night, I got the surprise of my life. The kind that makes a nutritionist mom's heart sing.
My daughter ate several bites off my plate. And then she asked for a full serving of her own.
And she ate it! Huzzah! #MomWin
Before we look at the recipe, lets remind ourselves how nutritious beef liver is.
---
---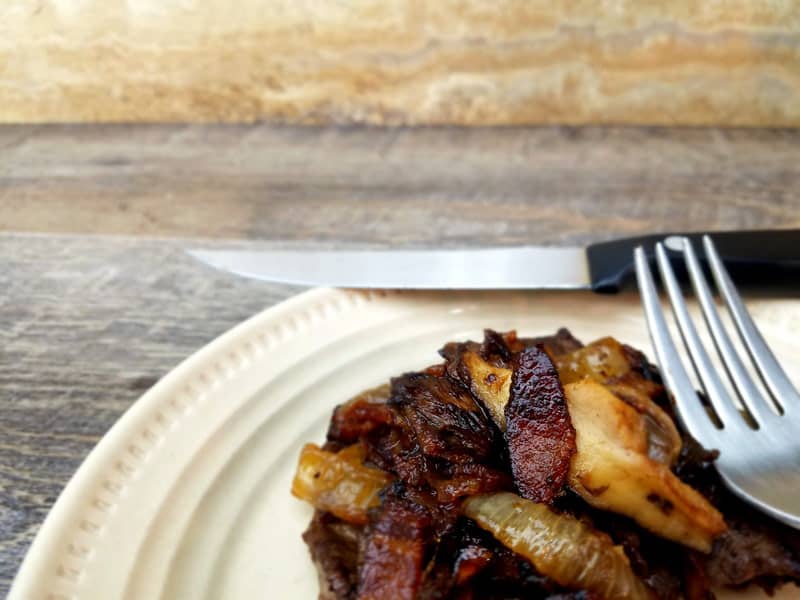 Beef Liver Nutrition
The table below is for 100 gram (3.5 ounces) serving of beef liver.
Beef liver is an incredible nutrient-dense and a source of a number of hard-to-find essential nutrients.
Beef liver is a great source of Protein, Iron, and Vitamin A. It is often prescribed by medical professionals for patients who need more Iron or Vitamin A.
---
P.S. If you like the recipe below, please take a moment to Rate this recipe and Share it.  We work so hard on publishing these recipes, and those little acts of kindness mean the world to us.  ~Ang
Best Beef Liver Recipe Keto
Thank You,
~ Angela