I didn't used to like liver. Honestly, I hated the taste and texture of liver.
The taste was too strong and the texture is just weird.
Eating liver is good for you…and me.

I know I should eat more liver, so over the years, I have experimented with numerous ways to prepare beef liver.
This is hands-down my favorite keto liver recipe.
Keep in mind that this recipe is also great for Primal, Paleo, Whole 30, and any whole food nutrition dense diet. And on Keto, my cravings for particular foods are strong. I know when I crave liver, it means there are some nutrients that my body needs now.
Whip out one package of beef liver and one package of bacon from the freezer, and I'm satisfying my cravings with a great ketogenic meal.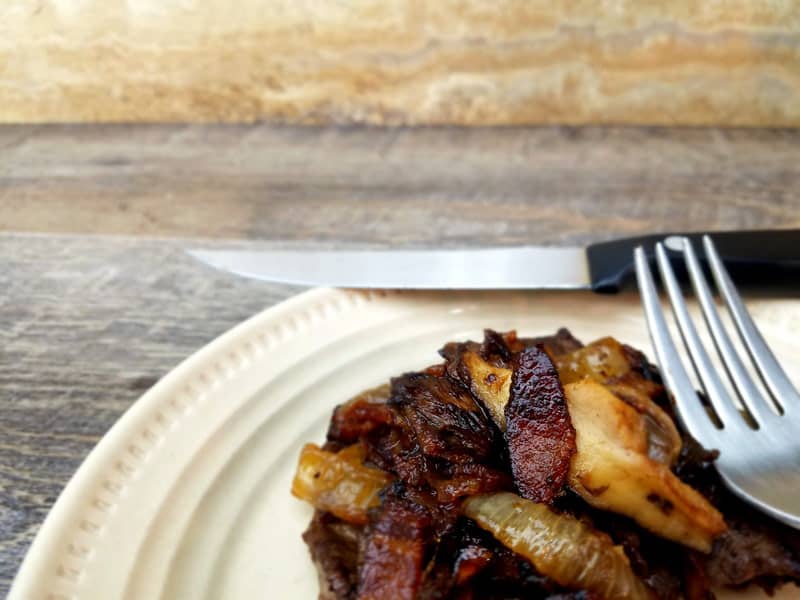 Aside from bacon, onions, mushrooms and butter providing some serious flavor and balancing out the liver, there are some secrets to why this is my favorite.
First, don't skimp on the salt.
It's really important and not as bad for us as previous recommendations might have cautioned.
Second, don't overcook liver.
I don't want mine rare or anything, but a little bit of pink goes a long way. Overdone liver is about as appetizing as a boot heel. And about as easy to chew.
Side note – I've tried to get my kids to eat liver from a young age. For a long time, they were both resistant. So I never pushed too much. They each had to have at least one bite of liver off my plate. They made the obligatory faces and protested but managed to get it down.
In the last year or so, though, the story has changed. Not only do they not protest the one bite, I can usually get them to take two. LOL
When I made this recipe last night, I got the surprise of my life. The kind that makes a nutritionist mom's heart sing.
My daughter ate several bites off my plate. And then she asked for a full serving of her own.
And she ate it! Huzzah! #MomWin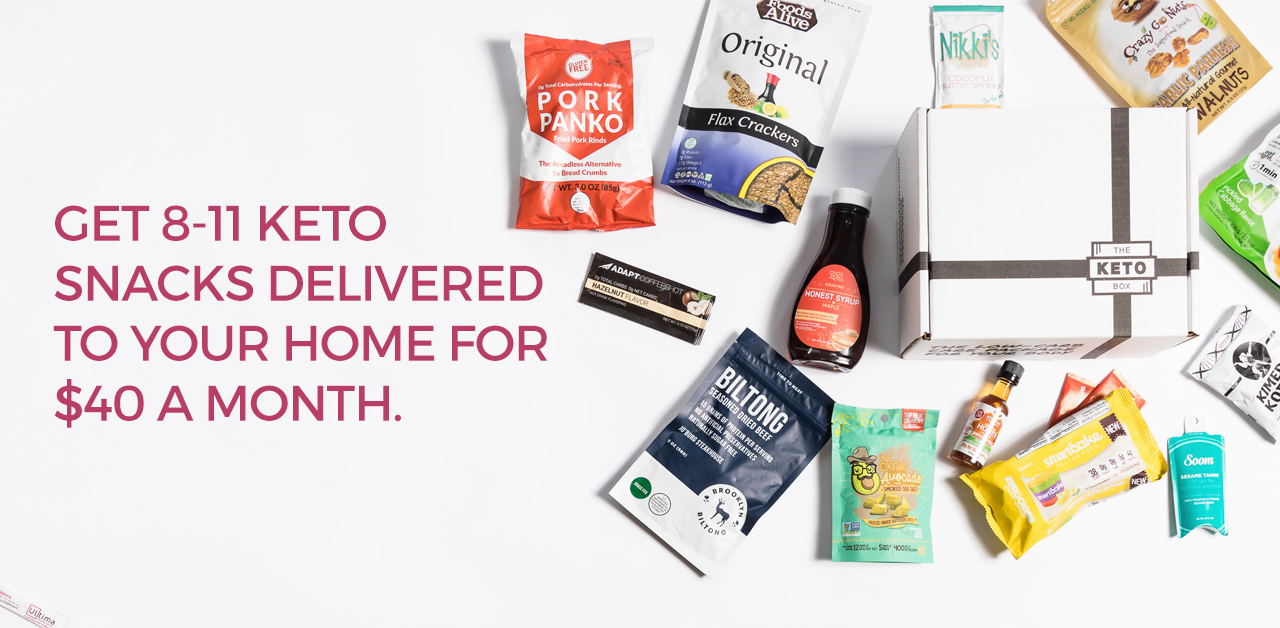 P.S. If you like the recipe below, please take a moment to Rate this recipe and Share it. We work so hard on publishing these recipes, and those little acts of kindness mean the world to us. ~Ang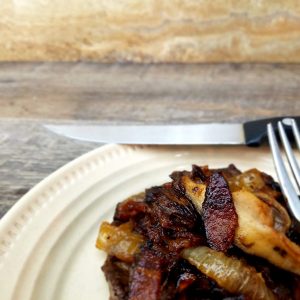 My Favorite Keto Beef Liver Recipe
Easy low carb recipe for tender, nutritious beef liver, smothered with bacon, butter, onions and mushrooms. A family favorite healthy organ meat recipe.
Print
Pin
Rate
Ingredients
1

pound

grass-fed beef liver

4

strips

bacon

we use Garrett Valley Uncured Bacon

3

tbsp

pasture butter

divided use

½

large

Onion

4

large

garlic cloves

10

ounces

sliced button mushrooms
Instructions
Unwrap the beef liver and lay flat on a layer of paper towels. Pat dry.

Salt and pepper the liver generously, and leave it out at room temperature while you prepare the remaining ingredients.

Dice bacon and fry in 2 tablespoons of butter in a large skillet. When crispy, remove the bacon bits from the pan and drain on paper towels. Leave the grease and butter in the pan.

Slice onion roughly. You want your pieces of onion to be similar in size to a bite of liver. The one-to-one ratio is part of the flavor secret! Saute on low in bacon grease and butter until it starts to soften but is not yet translucent.

Add garlic to the onions for an additional 30 seconds.

Add mushrooms to the onions and garlic. Saute everything until mushrooms are tender.

Shove all the vegetables to one side of the pan, away from heat. You may want to scoot the pan so that side is off the burner a bit.

Turn the heat up to medium and add the last tablespoon of butter.

When the butter is melted, add half the liver slices. Cook until you start to see the edges cooking. They'll turn from red to gray. When that border is a few millimeters thick (2-3 minutes, or so), flip them over.

Fry on the second side for another 2-3 minutes. Until you know how you like your liver, the best way to check is to cut into it. If it's still red, keep flipping until it is just barely cooked through. You want just a tinge of pink so it's cooked but still tender.

Place liver on a platter and cook remaining liver in the same fashion.

Toss the bacon bits with the vegetables and smother the liver with them.

Serve!
Notes
As written, this recipe has 11 grams of net carbs per four ounce serving of liver. For people following a very low carb count, I would use half the amount of onion, garlic and mushroom. The liver itself has 1.1 grams net carbs per ounce, or 4.4 per serving. If you halve the vegetables, you'll bring the net carb count per serving to about 7.
I have sometimes soaked beef liver overnight in milk to help remove some of the stronger flavor. This does seem to soften it a bit. I've also seen people suggest soaking in apple cider vinegar. I haven't tried that but it might help, too, if you just aren't used to the taste. All that nutrition is worth learning to enjoy!
Nutrition – Not laboratory tested.
Nutrition Facts
My Favorite Keto Beef Liver Recipe
Amount Per Serving
Calories 297
Calories from Fat 153
% Daily Value*
Fat 17g26%
Cholesterol 409mg136%
Sodium 304mg13%
Potassium 642mg18%
Carbohydrates 6g2%
Protein 28g56%
Vitamin A 44551IU891%
Vitamin C 4mg5%
Calcium 15mg2%
Iron 8mg44%
* Percent Daily Values are based on a 2000 calorie diet.
Love this recipe?
Please give it a rating in the comments below!
Thank You,
~ Angela