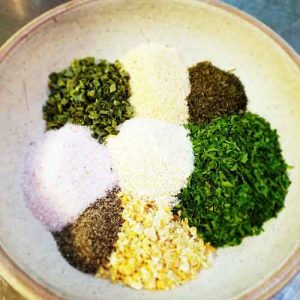 Print Recipe
Keto Ranch Dressing Fat Booster
An American classic, made Keto. All the zip and zing of the beloved ranch dressing, made with healthy, whole fats. So easy to whip together in under five minutes!
Servings:
24
1 tbsp servings
8

ounces

full-fat sour cream

we use Kalona Super Natural Organic Sour Cream

4

tbsp

heavy whipping cream

we use Organic Valley Heavy Whipping Cream

1

tbsp

parsley

3/4

tsp

dill weed

1

tsp

garlic powder

1

tsp

onion powder

1

tsp

dried minced onion

1

tsp

dried chives

1

tsp

pink sea salt

1/2

tsp

black pepper
If you are using an 8 oz. container of sour cream, scoop it into a mixing bowl. I usually end up making a batch of this Keto Ranch with a half-empty 16 oz. container, so I just throw everything together in that container! Add the cream and apple cider vinegar. Mix to combine until smooth. Add dry ingredients and stir to combine.
If you'd like your Ranch Dressing thinner, you can simply add more cream, which will add a small amount of carbs, if you're macro tracking very closely. Alternatively, you can add more vinegar. Go slowly, as this will change the flavor. A third option would be to thin using chicken broth - bone broth if you have it!  If you're not making home-made broth, then purchase the best quality that fits your budget.  The bone  broth from the The Osso Good Company is by far the best commercial bone broth that we've found.
For the down and dirty, quick, more-like-store-bought version, omit the dry ingredients and the apple cider vinegar. Instead, use one packet of Hidden Valley Original Ranch Seasoning Mix. Taste. You may decide to go ahead and include the vinegar if you want more buttermilk-like zing.
Calories:
31
kcal
|
Carbohydrates:
1
g
|
Protein:
1
g
|
Fat:
3
g
|
Saturated Fat:
2
g
|
Polyunsaturated Fat:
0.01
g
|
Monounsaturated Fat:
0.02
g
|
Cholesterol:
9
mg
|
Sodium:
105
mg
|
Potassium:
35
mg
|
Fiber:
0.3
g
|
Sugar:
1
g