Casserole Recipe
Gluten Free | Sugar Free | Keto | Kid Approved
This is a great keto potluck recipe or just a keto casserole that even the kids will eat.  A big pan of this Keto Chili Cheese Dog Potluck Dish will not only keep you in Ketosis, it's going to be a hit at the summer parties.  Enjoy keto meal and share it even with your non-keto friends and family!  If you looking for more tips for surviving summer parties while staying in ketosis, check out this Summer Party Keto Guide.
The secret ingredient in this keto chili casserole recipe are the anchovies.  You'll never guess they are in there, but it gives a depth of flavor that brings this casserole recipe to the next level.  Anchovies are a super food packed with omega-3s just like salmon.  We should all strive to include more anchovies in our diets.
The other major flavor enhancer in this keto kid and family friendly recipe is the beef bone broth that we use.  Bone broth is another super food that we should all have more of.  We make our own bone broth, and the flavor and nutrition is amazing.
If you are not making your own bone broth, then use the best available that fits your budget.  Osso Good Bone Broth is by far the best we've found. It's made clean clean and organic just like our home-made version, but by the taste of the broth they leave more meat on the bones than we do.  Osso Good Bone Broth is great to cook with, or to just drink like morning coffee (we add a little butter to make a bone broth fat bomb).

With everything you love about a Chili Cheese Coney but minus the bun. Our secret is the anchovies - just enough to provide depth to the flavor but it won't taste fishy, I promise! Anchovies provide the umami flavor profile, and they are a good source of omega-3 fatty acids. This secret superfood is truly worth exploring and incorporating!
| | |
| --- | --- |
| | |
Brown hamburger and sausage on stovetop, draining excess fat. (We love fat but too much makes the texture of the finished product too greasy!)

Remove the meat from the pan, but leave about 1 tbsp fat in the pan.

Add diced onion and diced anchovies. Saute on low until onion softens and starts to turn translucent.

Add garlic and saute for one minute. Add chili powder, cumin, and oregano, heating for 30 seconds.

Add tomato sauce and broth. Simmer the whole mixture for five minutes to create our chili mixture.

Cut brats into bites and place in a 10 X 13 baking pan. Pour chili mixture on top. Top with shredded cheese. Loosely cover with aluminum foil.

Bake in 350 degree oven for 30 minutes, or until hot throughout. Remove aluminum and turn on broiler. Broil for 5 minutes, or until cheese is golden.
Nutrition Facts

Keto Chili Cheese Dog Casserole Recipe

Amount Per Serving

Calories 525

Calories from Fat 396

% Daily Value*

Total Fat 44g 68%

Cholesterol 115mg 38%

Sodium 703mg 29%

Potassium 229mg 7%

Total Carbohydrates 4g 1%

Protein 28g 56%

* Percent Daily Values are based on a 2000 calorie diet.
If you liked this recipe, please Share It.  Those shares mean the world to us.  Thank you.
And, you'll probably also love these Advantage Meals' Keto Recipes!
Keto Gluten Free Oven Hot Wings
My Favorite Keto and Paleo Beef Liver Recipe
No Cook Keto Taco Bowl Recipe
Keto Whipped Cream Recipe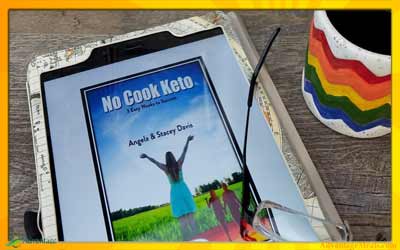 Looking for Easy Keto Recipes? It doesn't get easier than No Cook Keto
If you like this recipe, please SHARE it.  Those shares really help us out.