There's just nothing quite like a warm bowl of hearty beef stew on a cool fall day. This low carb stew features beef heart and oxtail. Stews are a great way to incorporate organ meat and lesser used cuts of meat, providing wonderful flavor and mouth feel. And if you make this low carb stew in an InstaPot, it's incredibly easy and much faster than on the stove top!
Nutrient Dense Stew
I love stews, and this one is packed full of nutrient dense foods.  Start with the beef heart.  We all know we should be eating more organ meats, and in this recipe the beef heart subtly mingles with the other ingredients in this healthy stew. Your family will notice a more robust beef flavor, but they'll never know that they are eating meat from a beef heart.
Then we add the incredibly nutritious bone broth created by the oxtail (a cross section of the tail of a cow) cooked in the instapot.  The high pressure of the instapot makes bone broth fast and easy, so by including these bones in our beef heart stew, we're creating real bone broth full of nutrients and minerals in just a short time.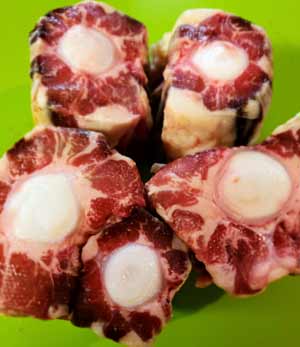 Because of the whole foods and incredible nutrition density, this beef heart recipe is great for so many ways of eating.
---
Beef Heart Stew Recipe good for the following diets
Keto Diet
Primal Diet
Paleo Diet
Whole 30
AIP Diet (leave out the wine & black pepper)
LCHF Diet
Dairy Free
Sugar Free
Gluten Free
---
Fall Oxtail Stew Recipe with Beef Heart
Cool weather. Organ meats. Instant Pot. The trifecta of the fall season!
I love everything about fall. Maybe it's because I have an October birthday, but I've always been partial to this season. If I can wear jeans, a hoodie and a stocking cap outside and be totally comfortable, that's the perfect kind of weather for me.
I love the colors of fall, and this beef heart stew fits right in. The touch of orange from carrot, the beige parsnip, the dark brown meat. It's like I can see the reflection of the season in my dinner bowl.
I even love the length of the days in fall. Not too short, not too long. There's enough daylight to get your work done but it gets dark early enough to remind me to wind down and rest. And I can't think of a better way than with a bowl of nourishing beef stew.
Oxtail Soup is a very traditional American meal. I'd like to wax poetically about the reason that this stew has been popular is the rich flavor of the beef on the oxtail, which is true. However, it's probably more true that its popularity is because oxtail was a cheap cut.
ProTip – If you can find a local butcher (not in a grocery store, but where they actually process live animals), you can often buy these less popular cuts at a fraction of the cost.  We buy organ meat and bones from a local butcher.
This stew also includes root vegetables. Root vegetables like carrot and parsnip do have more starch than above ground vegetables, but that doesn't have to mean they are off limits on a low carb Keto diet. This stew features the beef heart, the oxtail and beef broth, making it incredibly high in micronutrients, full of protein, and a great source of fat. 
I chose parsnips and carrots over the traditional white potatoes not only for the color but because they are lower carb. The onions, carrots, parsnips and garlic are also used sparingly, with enough to provide color, texture, flavor and nutrients without so many carbs that it will throw you out of ketosis.
At 9 net carbs per serving, this fantastic bowl of stew can fit anyone's target macros. So go ahead, enjoy the best of fall!
| | |
| --- | --- |
| | |
Trim beef heart of the thick outer layer of fat. There's no need to try to get every bit but I take off the big, tough chunks. Also, look for the veins and arteries and remove them. They get tough and stringy, which is not what you want in your stew. Dice the heart into bite sized pieces.

Melt 1 tbsp of the lard in a large skillet on medium heat. Place the oxtail pieces in the skillet and brown on all sides, about 3 minutes per side. Place each piece in your Instant Pot pan or a soup pot once they are browned. If you're short on time, skip this step and just put the oxtail in the pot. It will still taste great!

Put the diced beef heart into the pot on top of the oxtail.

Melt the remaining tbsp of lard in your skillet and saute the onion over low heat until soft. (You can skip this step, too, if you're short on time!) Add the garlic for one minute. Add the onion mixture to the pot.

Deglaze your skillet by putting the wine in the skillet and turning heat to high. Reduce the wine by half, scraping up any bits of meat that may be left from browning. Add it all to the pot. If you don't want to use wine, you can deglaze the pan with broth.

Dice carrot and parsnip into bite sized pieces and add to the pot, along with the thyme, rosemary, salt, pepper and beef broth.

If using an Instant Pot, place the pot in the device and close the lid. Make sure that the vent is turned to "Sealing". Set the pressure to high and the time to 75 minutes. Once the time is up, let it come down from pressure on its own.

Once the pressure is released and the red button on the lid pops up, remove the lid. I like to take the oxtail pieces out and move any remaining meat from the bones so I can put the meat back into the soup. Save the bones for your next batch of beef broth!
Nutrition Facts
Beef Heart and Oxtail Stew
Amount Per Serving
Calories 484 Calories from Fat 207
% Daily Value*
Total Fat 23g 35%
Saturated Fat 9g 45%
Trans Fat 0.2g
Polyunsaturated Fat 1g
Monounsaturated Fat 10g
Cholesterol 230mg 77%
Sodium 718mg 30%
Potassium 738mg 21%
Total Carbohydrates 11g 4%
Dietary Fiber 2g 8%
Sugars 3g
Protein 53g 106%
Vitamin A 78%
Vitamin C 17%
Calcium 3%
Iron 46%
* Percent Daily Values are based on a 2000 calorie diet.
Looking for more great low carb high fat recipes? Try these recipes.
Peanut Butter Fat Bomb Recipe
Keto Potato Salad Recipe - No Potato Salad - Low Carb Recipe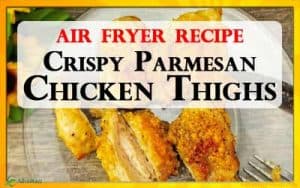 Easy Keto Air Fryer Parmesan Chicken Thigh Recipe
Low Carb Vanilla Ice Cream Recipe | Super Easy & No Sugar |