This site may contain links to affiliate websites, and we receive an affiliate commission for any purchases made by you on the affiliate website using such links.
by Angela Davis | Nov 17, 2018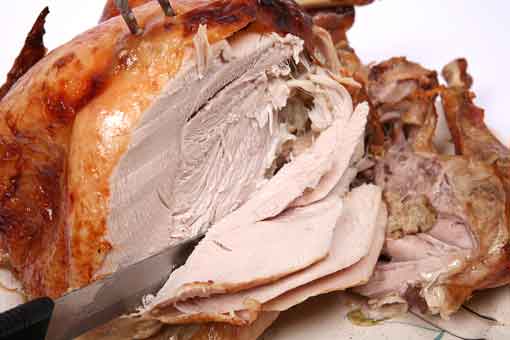 Thanksgiving is over. You've eaten, you've celebrated, you've given thanks. And whether you stayed Keto over Thanksgiving or you decided to opt-out for a day to go traditional, chances are you've got leftover turkey. What to do with those Keto Thanksgiving leftovers? We all face the leftover turkey question, and Keto diet folks are no different.
So if you're looking for great ideas to use up that turkey and Keto on, we're here for you!
All of these ideas are fast, easy and delicious. Half of them are No Cook Keto recipes – you can't get easier than that. Those that do require cooking are simple and quick.
Before I dive into this list of 6 Awesome Keto Uses for Leftover Turkey, here's a bonus Pro Tip:
ProTip – Don't throw away the bones! That carcass has tons of amazing flavor and nutrition in it, and all you have to do is simmer it in water and you've got fantastic homemade bone broth. Check out this post all about bone broth and how to make it. You can use the broth to make soup, sauces, or drink it with a little pastured butter as a Fatty Coffee alternative.
My Easy Low Carb Thanksgiving Leftover Recipe Ideas
Low Carb Turkey Sandwich
The turkey sandwich is a classic use for leftover turkey. But with bread off the Keto menu, what's a Keto dieter to do?  Make Keto bread!
And the simplest way to make foolproof Keto bread is with Good Dee's Baking Mixes.Their Corn (Free) Bread Mix is made with almond flour, which is the most reliable flour for Keto baking. It works great with leftover turkey! Top with your favorite toppings (lettuce, tomato, mustard, etc.) and make sure you don't forget the mayonnaise! Our favorite that pairs great with turkey is Primal Kitchen Chipotle Lime Avocado Oil Mayo. Delish!
As a member of the Advantage Meals Community, you can Save 15% on anything you order from Good Dee's using our promo code ADVANTAGEMEALS.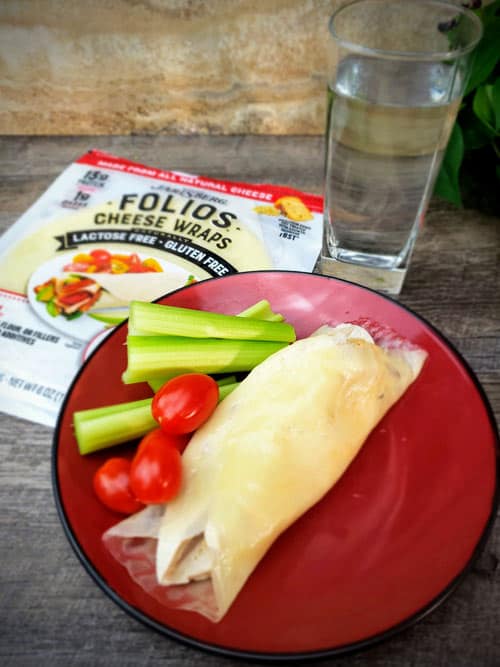 Caesar Turkey Wrap
Much like bread, you might think that any kind of wrap (except lettuce wraps!) is off the Keto menu. Not true! We've discovered these Folio Cheese Wraps and we're hooked. They come in three varieties, Cheddar, Jarlsberg and Parmesan. Each has only 1g net carbs per serving and they are so versatile.
For an out of this world turkey wrap, try the Jarlsberg wrap with your turkey and a generous spoonful of our Caesar Dressing Fat Booster. Serve with some cucumber slices or celery and you're done. No Cook Keto!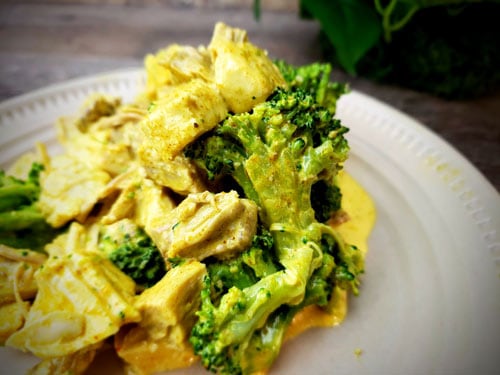 Turkey Curry
Another ridiculously easy No Cook Keto option. Heat up your leftover turkey in the microwave, add some Primal Kitchen Avocado Mayo, and sprinkle 1 teaspoon of curry powder, then mix. If you like to spice it up, add a little extra cayenne pepper. Serve with some microwave steamable broccoli florets and you're all set.
Keto Turkey Alfredo
Technically, this one requires a little cooking. But our Fat Booster Alfredo Sauce is so easy, you'll be sitting down to eat in 10 minutes. Once you start the alfredo sauce, throw some microwave steamable zucchini noodles in the microwave, heat up your turkey, and then toss it all together. Sooooo good.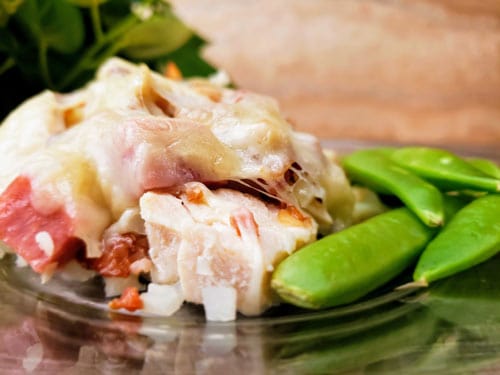 Keto Turkey Cordon Bleu
Super simple, this one dish meal throws together quickly, heats in the oven and is ready to go. Layer frozen riced cauliflower, dots of butter, leftover turkey, diced ham, and crumbled bacon in a 9" x 13" baking dish, then top with slices of swiss cheese. Bake in a 350 degree oven for 20 minutes, or until everything is hot and the cheese is melted and golden.
If you have fresh bacon and you want to fry it, by all means do! Fresh is always better, but if time is an issue, I always keep packaged bacon crumbles in my refrigerator. There is no one right way to Keto!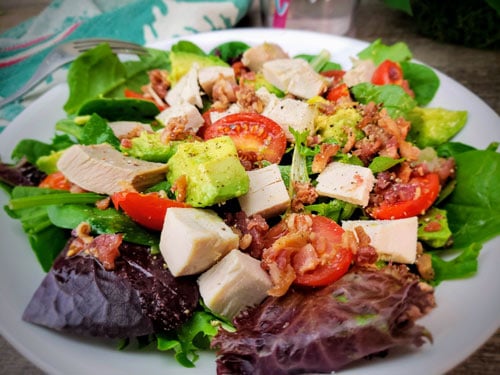 Turkey, Bacon, Avocado Salad
No Cook Keto and fresh salad greens sounds like lunch to me. Chop up your leftover turkey and toss it on some dark, leafy salad greens. Add half an avocado, some crumbled bacon, olive oil and salt and pepper. Eat!
How do you use up your leftover turkey? Share your favorite Keto turkey secrets in the comments!
Share Your Best Low Carb Thanksgiving Leftover Ideas!
I'd love to hear your ideas for how to use-up Thanksgiving Leftovers while still maintaining your Ketogenic Diet. Let me know your favorite ideas in the comments below.
Your Keto Friend,
~Angela
P.S. Looking for an idea for your Keto Christmas List? Check out the Keto Box advertised below. These good folks have been a sponsor of my website for a long time, and their boxes have been supporting keto dieters for even longer. What a great way to treat yourself and try new keto products every month. ~Angela