Pork Loin, Spinach, Mushrooms, Cheese…Yum.
About this recipe
By: Angela Davis
Want to elevate a regular pork loin to a low carb, keto diet friendly, stuffed masterpiece? Then this ketogenic recipe is for you! By butterflying the loin lengthwise, you literally open it up to all sorts of added goodness. Here, we have married onions, garlic, spinach, mushrooms and cheese for a super tender and flavorful entree. With just enough stuffing, this pork loin is low-carb, keto and Primal. Our children beg for it over and over, and we know your family will, too!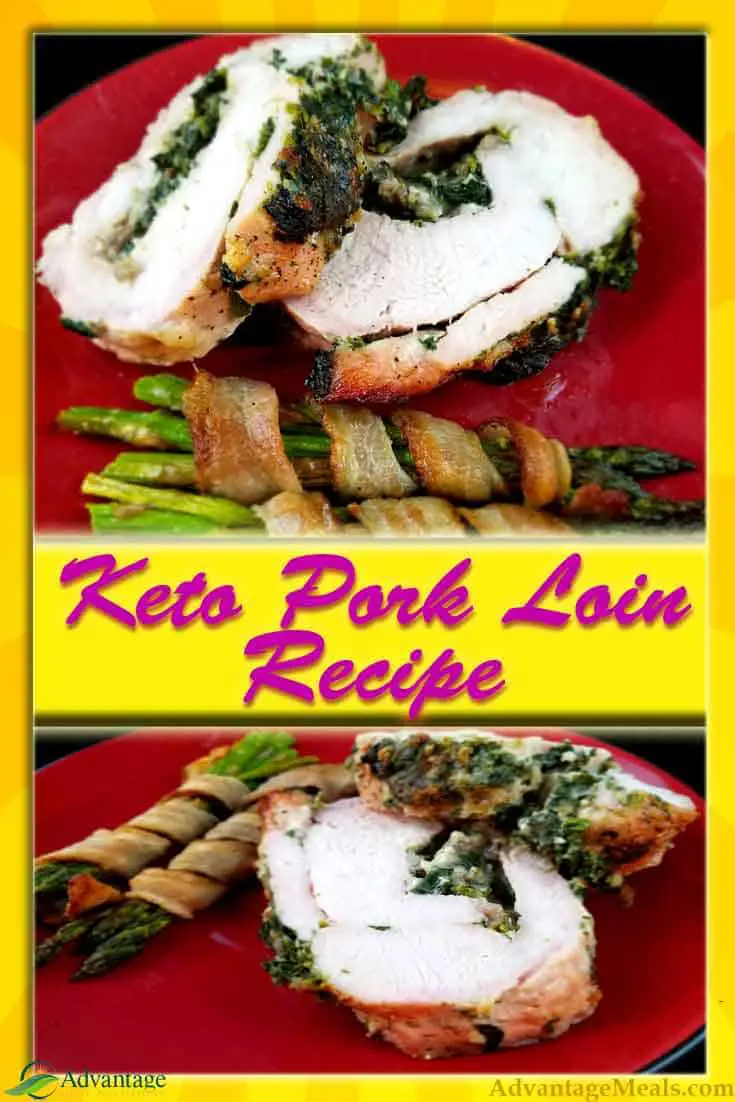 4.5 pounds boneless pork loin
10 oz frozen chopped spinach, organic
2 tbsp grass fed butter
1/2 large yellow onion, finally diced
5 large garlic cloves
5 oz frozen mixed mushrooms (we love Woodstock Organic Mixed Mushrooms), thawed and finely diced
16 oz shredded Italian cheese blend, organic
1 dash Salt & Pepper – To Taste
Step by Step Instructions
Step 1
Prepare a baking pan by lining with aluminum foil for easy clean up. Place a roasting rack in the pan.
Step 2
Trim and butterfly the pork loin. Salt the pork generously. Let sit at room temperature while you prepare the stuffing mixture.
Step 3
On stovetop in medium skillet, melt butter. Add onion and saute on low until translucent. Add garlic for 1 minute. Add mushrooms and saute until excess moisture is evaporated. Top with frozen spinach until thawed.
Step 4
Top pork loin with stuffing mixture, spreading evenly the whole length of the loin. Do leave about 1 ½ inches empty along the long edges as the mixture will move when you fold it together. Top with an even layer of cheese. Fold one side of pork over, with the stuffing in the middle.
Step 5
Using butcher's twine, make a loop around several fingers and tie a knot. Place twine under one end of pork and thread the unknotted end through the loop, pulling tight. Wrap twine around pork, working toward the opposite end. Tie off the end of the twine.
Step 6
Place in roasting rack, with the open edge facing up. Bake at 350 degrees for 2 hours, or until the pork (not the stuffing!) reaches 145 degrees.
Step 7
Let rest for 10 minutes. Slice and serve.
If you're making this as part of the
Ultimate Mother's Day Keto Dinner
, 
this will be your starting point. Once the loin is in the oven, you'll move on to the other menu items!
When you try this recipe, please let us know in a comment below how it worked for you!
If you came up with another variation, please share it with us.  We are always looking for better ways for our family, our friends, and our clients!
Your comments not only inspire us to keep sharing articles like this, it helps others find this recipe.
Also, don't be shy about sharing this on social media with others.  It makes all the difference for us.