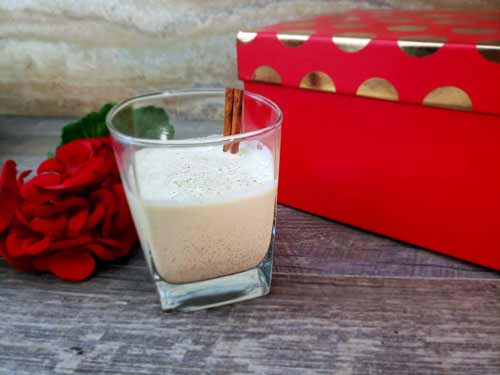 This time of year, eggnog starts popping up in every dairy case you see, and what you are seeing is eggnog packed full of carbs.  
Eggnog is iconic to the holiday season, and for good reason. Whether spiked with alcohol or left without, the warm spices and creamy goodness of eggnog just fits perfectly with the Christmas spirit. And making your own is so much better than those cartons of processed nog.
For years, I made my own eggnog using a traditional aged nog method, similar to what the English and early American revolutionaries would have done. With lots of sugar and lots of alcohol, my homemade eggnog was always highly anticipated. I made it the day after Thanksgiving and let it age in my refrigerator all the way to Christmas. Amazing!
And while our family and friends loved to drink my eggnog during our Christmas get-togethers, no one was very excited about the sugar hangover the next day. Even just a couple of glasses of eggnog was enough to give us a headache the next day. Not due to overindulgence in alcohol itself, but the dirty combination of sugar and alcohol.
These days, that much sugar makes me feel horrible while I'm consuming it, too. I've been Keto for long enough that my body just doesn't put up with mass amounts of sugar. So I thought my eggnog days were over.
Is Low Carb Eggnog even possible?
Yes!  Keto Eggnog is absolutely possible and pretty easy.
When it occurred to me that everything in my eggnog was perfectly Keto except the sugar, I wanted to give a Keto-friendly eggnog a try. And boy, am I glad I did!
This is a Super Easy Low Carb recipe for the Keto Eggnog to make your Christmas more festive..
This keto eggnog recipe is so simple, you won't believe such complex flavors can come together with so little effort. For the best flavor, you'll want to make this ahead of time. Aging is truly the secret to great nog. As the ingredients mingle over time, the flavors mellow and meld into perfection.
If you can't wait, you can also drink this nog right away. Just know that the flavor will be a little raw, and the bite of the alcohol will be stronger.
No Alcohol Keto Eggnog?
You can also choose not to add the alcohol, and you'll still have a tasty beverage.  If you want the flavor of traditional Eggnog, use a little Zero Carb Rum Extract.
You'll want to consider using pasteurized eggs since this is a No-Cook recipe. The alcohol in the full-flavored version will kill any potential bad bacteria in the raw eggs, and without it, you may want a little insurance from heat-treated eggs.
Upgrade this recipe with Real Nutmeg
While you can use ground nutmeg in this recipe, the flavor of freshly grated nutmeg is truly better. All it takes is a quick brush back and forth on a microplane or other fine grater and the unused portion of the nutmeg will keep on your spice shelf until you need it again. Once you try freshly grated nutmeg, you'll know the difference is indescribable!
Don't Overdo It!
Turns out, you really can have too much of a good thing sometimes. This eggnog is amazing and it has almost no carbs, but it is definitely not low calorie. We believe that it's important to just enjoy and celebrate during the holidays! So have your eggnog and enjoy every last drop. But keep it for special occasions.
Another option would be to replace half of the heavy whipping cream with half and half, which would lower the calories but raise the amount of carbs. For some, the heavy cream only version is so rich and thick, it can almost be too much. If you prefer a nog that is lighter in texture and lighter in calories, and you don't mind adding 7.5 grams of carbs per serving, that is definitely an option. The flavor will still be fantastic!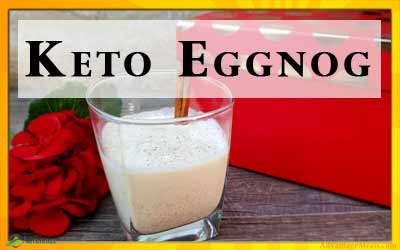 Low Carb Homemade Eggnog Recipe
Thick, creamy and delicious, this holiday staple is so much better when homemade. And without refined sugar, you can enjoy your egg nog and stay in ketosis.

Print
Pin
Rate
Ingredients
2

large

pastured egg yolks

1/4

tsp

cinnamon

1/8

tsp

nutmeg

freshly grated is best

3

ounces

liquor

any combination of rum, cognac or bourbon

1 1/2

cups

heavy whipping cream

organic is best. See notes for half and half option.
Instructions
Blend all ingredients. We love the Magic Bullet!

Pour into a glass container with a fitted lid. A mason jar works well if you are making a small batch.

Store in your refrigerator for at least 2 days. The longer you let it age, the better the flavor will be. Don't worry, the alcohol will ward off any potential problems. If you choose to leave out the alcohol, consume within 5 days. This is a strong cocktail, so if you'd prefer to reduce the amount of alcohol, follow the same 5 day aging precaution.
Notes
For a lighter version, you can reduce the heavy whipping cream to 3/4 cup and substitute 3/4 cup half and half for the remaining. This will lower the calorie count and the fat percentage. It will also add 7.5 grams of carbohydrates, if you're keeping close track!
ProTip – Make extra Keto Eggnog so you can make Low Carb Eggnog Ice Cream!
Nutrition – Not laboratory tested.
Nutrition Facts
Low Carb Homemade Eggnog Recipe
Amount Per Serving
Calories 770
Calories from Fat 639
% Daily Value*
Fat 71g109%
Cholesterol 429mg143%
Sodium 76mg3%
Potassium 152mg4%
Carbohydrates 6g2%
Protein 6g12%
Vitamin A 2869IU57%
Vitamin C 1mg1%
Calcium 138mg14%
Iron 1mg6%
* Percent Daily Values are based on a 2000 calorie diet.
Love this recipe?
Please give it a rating in the comments below!