Christmas is around the corner. Like me, you love your Keto way of eating, and you're making progress on your health goals. Keto helps you lose weight, enjoy mental clarity and normalize your hormones.
Then along comes the holidays, and even the happiest Keto Diet followers can be tempted and derailed by Christmas cookies and other holiday treats. Christmas is a season of joy. It's a time to eat, drink, and be merry.
The good news is, you can enjoy all the goodness of the holidays, while still celebrating a Keto Christmas.
Are You Celebrating a Keto Christmas or the Keto Cheat Holidays?
The first thing you need to do is ask yourself where you want to strike the balance between Christmas traditions, social situations and sticking to your Ketogenic Diet.
The holiday season can be long, and you may be faced with numerous gatherings, office parties, and sugar-filled gifts. Seems like everywhere you turn, someone has cookies, candies and pastries to share. Yummy treats, but not keto friendly goodies.
If you are fat adapted, all that sugar might not even sound good anymore. Or maybe it does but you know how crappy it will make you feel if you eat (whoops!) all of it.
One of the greatest things about the Keto life for me is that the all-consuming sugar cravings I used to have are gone. I can see a plate of cookies and not have to eat them all *right now.* But that doesn't mean they don't look good.
There is some willpower needed if you want to stay Keto when surrounded by sugar. Luckily, since your hormones are more balanced, you're not a slave to the insulin roller coaster, so you're not fighting biology. The temptation you WILL be experiencing over the holidays are habits and tradition. Still, those can be tough enough.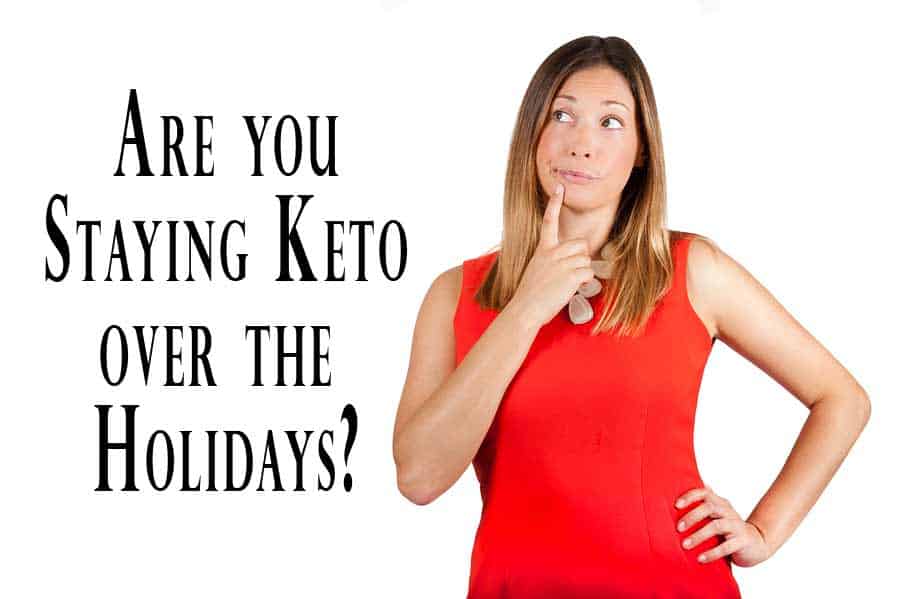 So you must decide for yourself.
Is this really going to be a Keto Christmas?
Are you going to say, "No, thank you" to all cookies, in every situation?
Are you going to pass on most of the treats but indulge in your very favorite ones?
Are you in the once-a-week camp?
You can do all of these and still stay true to your Keto way of eating. Deciding to eat or not eat anything is always up to you. You choose what you put in your body. If you put sugar in one day, you can just as easily put Keto-friendly foods in the next.
Even if you slip out of ketosis during the holidays, know that it's not the end of your Ketogenic Diet, and that you can get back into ketosis quickly and easily.
Whatever your thought process, if you've decided you want to stay Keto for Christmas, we understand. We've been surviving (and thriving!) the holiday season while bucking Conventional Nutritional Wisdom for years.
The Keto Christmas Rules List
---
Keto Christmas Rule #1 – Be Prepared
Whether it's an office party or a family celebration, chances are you'll know what to expect. Think about it ahead of time, and you'll be prepared in your mind and with great Keto options for yourself or to share.
Treats. If there will be treats, make your decision ahead whether you will indulge or not. If the decision is made ahead of time, it simplifies your life once you are there. The Christmas cookies that are totally not Keto might look good, and if you have already decided that's not your choice, that's one less thing on your plate. Literally. And figuratively. Less decisions to be made on the spot gives you more focus.
Food table. Scout the food table for Keto-friendly options. Sausage, cheese, vegetables, and deviled eggs are all common party food, and they lend themselves just fine to staying in ketosis. Steer clear of anything that is highly processed. (If it came out of a box, it's probably pretty processed.) Avoid anything with a sauce, as they tend to be high in hidden sugar and/or flour.
Check out this list of our favorite Keto snacks. Many of them show up on party food tables, so you'll know they are Keto when you see them.
Meals. For parties that will include a meal, being prepared can be two-fold. Eat before you go, and you'll be full and satisfied before you are even faced with conventional, high-carb dinner decisions. When you sit down to eat, know that you want to focus on meat, vegetables, and simple fat. Avoid sauces on your dinner, if possible, and add butter.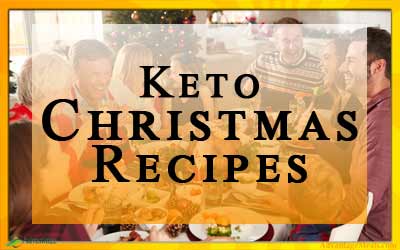 Bring your own. You can also be prepared with your own food and drink. Bring good quality, high fat snacks or dips, and you'll have food to share. You'll also know that you won't have to wonder if you'll be able to have enough fat to be satisfied. A wheel of Brie or a charcuterie plate with different kinds of sausage and cheese is always popular and totally Keto. Homemade Ranch Dressing or other dip for vegetables is great to share. Make your own Keto-friendly sweets and bring enough to share or just a few to have in case you need a sweet to avoid the dessert table.
Adult beverages. For gatherings where alcohol will be served, you'll want to have a plan or bring your own, as well. If your family celebrations include adult beverages and you want to have one or two, go for it! There are any number of low-carb adult beverage choices on the Keto menu.
Be careful here. Set yourself a limit and don't go over. The dessert table gets a lot harder to walk past after too many drinks.
#2 – Don't Try to Convert People to a Keto Diet
Unless you are talking with someone that you already know is very supportive of your ketogenic lifestyle, keep any conversations about your way of eating short and simple. Focus on the positives, with short comments about how great you feel or the weight you've lost.
Framing is important if people ask specifics about what you are eating. Statements like "I choose not to eat bread" instead of "I can't eat bread" can be powerful.
No whining about how much you miss carbs! This will only invite the haters. Or it will make your mother or grandmother feel the need to throw in their well-intentioned advice.
Definitely don't preach about how everyone should go Keto. You're there to enjoy your family and friends, not create an army of Keto converts. You wouldn't want to listen to someone try to talk you into a super low-fat diet, would you?
Your example will give them something to think about. Let that speak for itself. When they see that you are healthy and happy and enjoying the food you are eating, it may lead them to want to learn more later. Keto on and lead by example.
If you're lucky enough to friends and family that are also Keto, get them a gift that will support their Keto lifestyle. We've got some great suggestions for Keto-friendly Christmas gifts. You might even want a few on your own wish list!
#3 – Enjoy and Forgive
Christmas is a time of celebration, friends and family. Talk, play games, watch football. Do whatever it is that you enjoy with the people who around you. The holidays are a time to come together; it's about the people, not just the food.
Eat, drink and be merry. The food is also there for you to enjoy. If you spend your time thinking about carbs and calories, chances are you'll miss out on some of the joy. Whether you decide to stay full-fledged Keto or to veer off the strict, low-carb track, enjoy it.
If you made a choice you wish you hadn't, let it go. Tomorrow is a new day, and your Keto way of eating will still be there. Even if you knocked yourself out of ketosis, you can get back quickly.
If you stay the course, even though well-meaning friends and family try to get you to eat something you'd rather not, let it go. Forgive them, forgive yourself, and move on.
And quietly be thankful that you have found a way of eating that supports you and helps you feel great. And no matter how the day goes or what you eat, Keto will still be there tomorrow.
Merry Christmas!
~Angela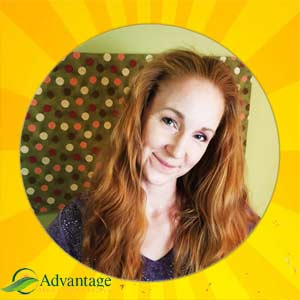 Angela Davis
Founder Advantage Meals
Angela earned her Master's Degree in Holistic Nutrition 14 years ago and began her lifelong journey of nutrition and wellness learning. She began keto meal planning and cooking over a decade ago when she began working with local clients who were under the direct supervision of a medical doctor. Angela is the author of No Cook Keto, the easiest keto meal plan available.