I just want an easy, filling keto breakfast that is good at home or good on the go. And I want it to be low carb, keto-friendly, and kid-approved. Can I get an amen?
What I really needed was a make-ahead Keto Breakfast Casserole Recipe that was super fast to make and that would hold it's shape when cut into serving sizes, and that would freeze and reheat well.
That was this inspiration for this Low Carb Bacon and Egg Breakfast Casserole that can be easily cut into single serving keto breakfast bars for the road.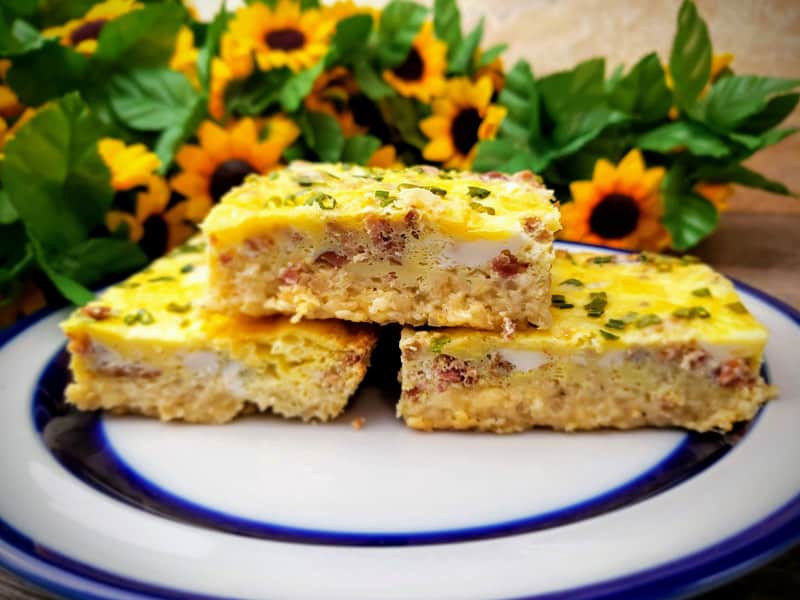 Easy Keto Breakfast Casserole Recipe
I'll be honest, I started testing this recipe aiming for Keto Breakfast Egg Nests…they just look so darn cool.
With that version, I made individual servings using muffin tins. Each tin was lined with the same awesome cheesy, cauliflower crust that is used in this final recipe.
And my original version had sausage, which browned in a separate step.
And then each muffin had to be filled separately. And getting these cute little "egg nests" out of each muffin tin turned out to be a serious hassle.
Those first Keto Breakfast Egg Nests were super cute. They were low carb. They were yummy. And they were seriously too complicated to be something that I make on a regular basis.
And the cleanup of those muffin tins was a pain in the…butt.
The Easy Keto Breakfast Version Of This Low Carb Breakfast Recipe.
As you know, here at Advantage Meals I Keto Easy. I need easy.
It's just how life is. I want good, real, keto-friendly food for my family. And I want it to be simple.
Is that too much to ask?
I don't think so. Which is why I modified this recipe to make it much easier and faster.
No more lining individual muffin tins with the crust. No more browning sausage (although if you want to, it's really yummy!).
No more careful prying to get each nest out without damaging it.
And no, you might not have the urge to share these at a baby shower the way you might with the cuter egg nest version. But your kids will eat them the same when they are headed out the door to school. And most days, that's the litmus test that matters to me.
However, if you want a super cute breakfast and have the time, totally make this in muffin tins…they are so cute.
Easy Keto Breakfast Recipe Idea