This site may contain links to affiliate websites, and we receive an affiliate commission for any purchases made by you on the affiliate website using such links.
Starting a Keto Diet can seem complex and confusing, but it doesn't have to be that way. My focus here at Advantage Meals is to make starting a Keto Diet as easy and stress free as possible.  That's why I made this page of resources for a Keto Diet Beginner.
You can start a Keto Diet quickly and easily if you have the following:
Start your Keto Diet with the basics, then upgrade your diet as you go along.
~ Angela
The Basic Ketogenic Diet Information
When Starting a Keto Diet, you really need to stay out of the weeds.  There is so much information on the internet and some of it even seems contradictory!  You can easily suffer from 'paralysis by analysis' as you are learning what you want to know about your new keto way of eating.
Let's avoid that, and just get you the basics that you need to begin your keto diet. You can pick up more information once you're in ketosis and enjoying the benefits of your new way of eating.
---
Basic Keto Information. This article is just the basic information you need to know about what a Keto Diet is and Why It Works.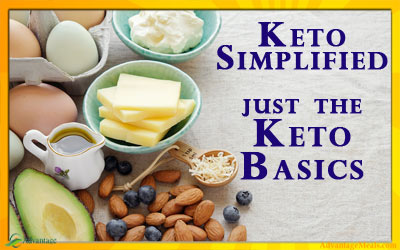 The Keto Rules
When starting a Keto Diet, you don't have to master everything about Keto all at once.  Just focus on getting into ketosis, and then you can figure out how you are going to keto for the rest of your life.
---
The Rules of Keto. This article has the basic Rules of Keto for the First Three Weeks.  Don't drive yourself crazy during the first three weeks when your only major goal is to get into ketosis.
Keto Tools
You don't need lots of tools and supplements to start a keto diet.  But there are a few that are very helpful.  For your convenience I've included affiliate links to Amazon for each of these tools.
---
Ketone Test Strips. You are going to want to know if you are in ketosis, and the easiest and most affordable way to do so is with these test strips that will tell you if there are ketones (a by-product of ketosis) in your urine.  A more accurate way to measure ketones is a blood meter, but this is not a necessary tool.
---
Mineral Supplements. A keto diet is diuretic (you pee a lot) and you're going to be flushing out some electrolytes. In our experience, nearly everyone feels better if they supplement these minerals.  We use Concentrace Trace Mineral Drops in our water or coffee.  A serving is 40 drops, and we get that over the course of a day by just putting 3 to 6 drops in everything we drink.
---
Himalayan Pink Salt. One the essential minerals that you'll need to supplement on your new ketogenic diet is sodium. And while you are salting your food, you should consider using a salt that has more minerals than just sodium, which make the sodium more effective.
Easy Keto Meal Plan
For the first three weeks of your new Keto Diet, you don't want to be put into a situation where you have to eat carbs because you don't have good keto friendly food available. It takes about three weeks of being in ketosis for your body to learn how to burn fat efficiently, and every 'cheat' meal starts that clock over.
---
No Cook Keto Meal Plan.  I wrote this keto meal plan to be the easiest keto meal plan available. Everything in this meal plan is Mix, Microwave and Eat…and in 5 minutes or less.  Check out No Cook Keto and give yourself a huge keto advantage.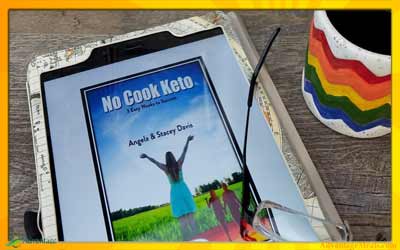 If you prefer to do more of your own cooking, I'd suggest the Custom Keto Meal Plan which is just what it sounds; a plan that is customized for the with the foods you like.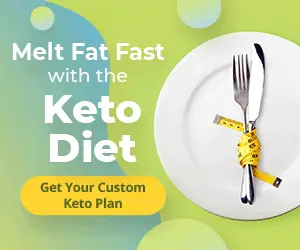 ---
Budget Shopping List.  You are not going to want to only do No Cook Keto for long, and knowing what the staples are that you should be stocking in your pantry makes your keto way of eating so much easier.  I also added hints and tips on this shopping list to help you avoid 'tricky' carbs.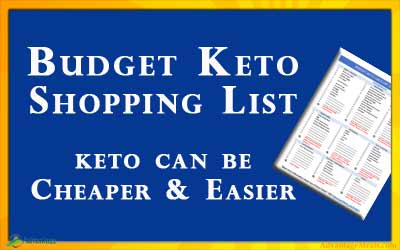 ---
Keto Recipe Book. If you want to do more cooking, there are lots of great Keto Recipes on the internet (including dozens of recipes here on Advantage Meals).  However, if you want a large collection of Keto Recipes always ready on your Tablet or Computer, check out these 370 Easy Keto Recipes.  This is a digital cookbook.
---
Printed Keto Cook Book.  On the other hand, if you want a paperback keto recipe book, this is our favorite printed keto cookbook.  We have the spiral bound version as it's easier to lay flat while cooking.  This book has roughly half the recipes found in digital book above.
That's all you really need to start your keto diet.
The most important thing right now is to actually get started on your new keto way of eating.
Keep it simple and enjoy the journey.
You'll pick up the details as you go along.
Regardless, I'm here to help.  If you want to hear more from me, signup for my newsletter and be sure to follow me on Pinterest, Instagram, and Facebook.
Your Keto Friend,
~ Angela
P.S.  When you're ready to start become a ketogenic expert, start with this Master Keto Article.
Disclaimer: While I have been keto for over a decade and have guided thousands of people through starting a keto diet, I am neither a licensed nutritionist nor a medical professional. I never prescribe diets.  I only share my personal experiences and those of my clients for informational purposes only.  Nutrition details are provided for informational purposes only, and should not be considered medical nutritional data. You should consult your medical professional before making any major changes in the way you eat.