This site may contain links to affiliate websites, and we receive an affiliate commission for any purchases made by you on the affiliate website using such links.
All your special family & friends events feature some version of deviled eggs.  Why not up your keto game with this great Keto Deviled Eggs Recipe?
It's really not that much different than the countless other deviled eggs recipes out there, we just make better choices for ingredients for our Bacon Deviled Eggs.
People are going to love these.  They are honestly so good that even your carb addicted friends & family will be asking for the recipe. Who knows, this might be the keto recipe that helps you help your friends.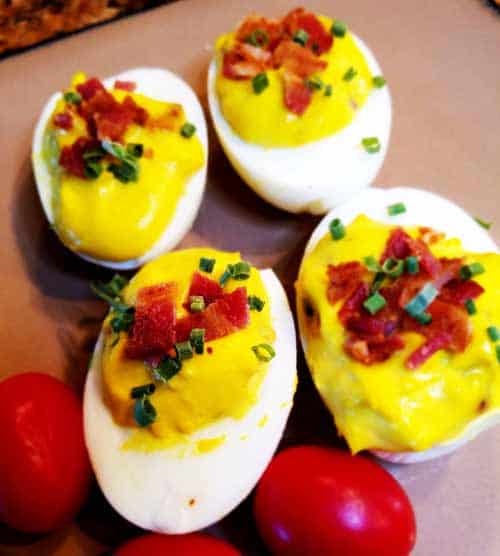 Why Keto Deviled Eggs?
Eggs are a great source of protein, maybe even the perfect source of protein.  We can easily boost the fat in deviled eggs with good ingredient choices.  In this recipe, we achieve that goal with Primal Kitchen Avocado Oil Mayo and Bacon.  Good protein & good fat = A Keto Win.
Add to that the fact that eggs are very affordable.
Really, eggs should be a staple in any budget-sensitive keto diet.  Keto Deviled Eggs are great, but you can also eat them as a keto budget-friendly staple in a dish like Keto No Potato Salad.
---
---
Keto Bacon Deviled Eggs Recipe
The perfect Keto Deviled Eggs. Perfect hard boiled eggs can be a trick. Too long and the yolks are too tough and greenish. Too short and they are soft boiled – not good for deviled eggs! Follow these steps and you'll get perfect eggs.
Print
Pin
Rate
Servings:
12
Deviled Eggs
Instructions
Place eggs in a large pot with enough room for them to move around. Add cold water to cover the eggs by about an inch and a splash of vinegar. Cover tightly and place on stovetop. Bring to a boil on high heat, watching carefully. (It will take about 10 minutes.) As soon as it comes to a boil, turn the heat off but don't remove the lid. Start a timer for 10 minutes.

When the ten minutes are up, drain the hot water and rinse the eggs in a colander with cold water until they are cool enough to be handled. Return to the cooled pot or a bowl, add just enough water to cover, and add a layer ice cubes on top of the eggs. Leave for about 30 minutes. Drain off the water and they are ready to peel!

While all this is going on, you can fry your bacon. Once crisp, remove from pan and drain on paper towels. Make sure to save the grease! Dice the cooled bacon into bits and set aside.

Once your eggs are peeled, cut each in half lengthwise. Place the yolks in a mixing bowl and mash with the mayo and Dijon. Add the reserved bacon grease and stir until smooth. Add in bacon bits.

Pickle relish is often a staple in deviled egg recipes, but we have omitted it due to the sugar, and we think these taste great without it! If you are really missing it, consider a sugar-free pickle relish that you can find at the grocery store next to the regular sweet relish. Or go ahead and add the conventional stuff! Just know that adding 2 tablespoons of convention sweet pickle relish is going to add about 1/2 net carb per serving.

Place a scoop of the yolk mixture in the cavity of each egg and top with chives.
Nutrition – Not laboratory tested.
Nutrition Facts
Keto Bacon Deviled Eggs Recipe
Amount Per Serving
Calories 139
Calories from Fat 117
% Daily Value*
Fat 13g20%
Cholesterol 111mg37%
Sodium 161mg7%
Potassium 43mg1%
Carbohydrates 1g0%
Protein 4g8%
Vitamin A 173IU3%
Vitamin C 1mg1%
Calcium 18mg2%
Iron 1mg6%
* Percent Daily Values are based on a 2000 calorie diet.
Love this recipe?
Please give it a rating in the comments below!