Keto meal prepping is vital in our house to make our Keto Diet easy and sustainable. This easy pulled pork recipe is one of my favorite meal preps. And you know I love easy keto! This tender pulled pork can be used in so many ways. It's a Keto staple in our house.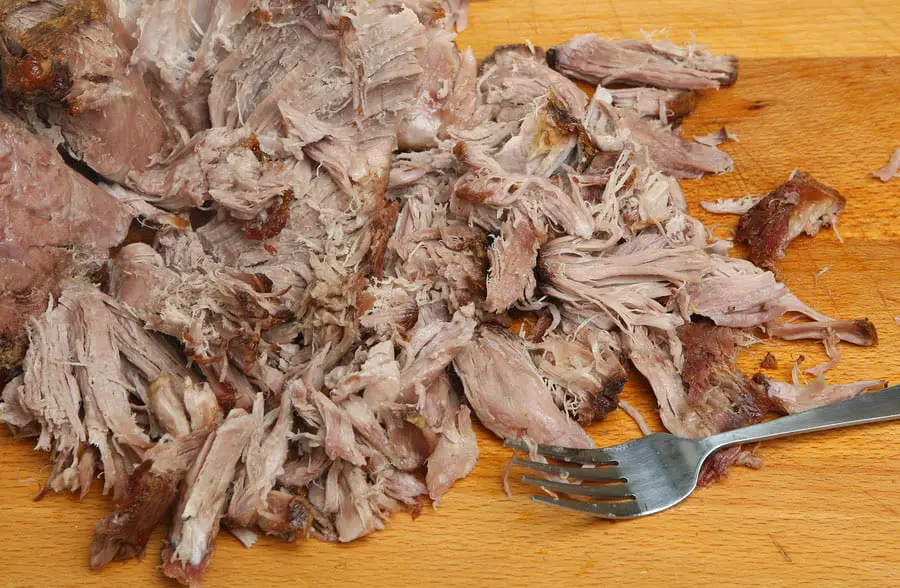 Easy Keto Meal Prep
Around here, for a meal prep recipe to be something we make on a regular basis, it has be an all star recipe.
Fast

Easy.

Flavorful
Keto-Friendly
Affordable.
Pulled pork checks all the boxes.
Easy Pulled Pork Meal Prep
Making a large batch of pulled pork at the beginning of the week gives us numerous meal options throughout the week. I'm going to share with you not just how to make the pulled pork, but also lots of ways to dress it up for flavor and variety!
While your pork is cooking, you can prep some of the sauces and fat boosters that can be used to top your pork (and any other meats or vegetables, for that matter). Having numerous pieces to mix and match will guarantee you have variety in both flavor and nutrition.
What Cut for Pulled Pork?
We use pork shoulder for our pulled pork.
Pork Shoulder is higher in fat than many cuts, which is ideal for a ketogenic diet and also gives our pulled pork great flavor. Top that off with the fact it's more affordable than most cuts of meat and Pork Shoulder is a winner. We hope you make this easy keto meat choice a regular part of your life too!
You may find this cut of pork in your local grocery as pork shoulder. Or you may see it as Pork Butt (the upper part of the shoulder) or the Picnic Roast (the lower part of the shoulder.) It also goes by Boston Pork shoulder, Boston roast, Boston butt, shoulder butt, and shoulder blade roast. No matter the name, get the bone-in version. You'll get better flavor and also the benefits of cooking meat on the bone, with all the connective tissue. Your joints, your skin and your gut will thank you.
---
How to Flavor Your Pulled Pork
We love this pork in so many ways. It's incredibly versatile and takes on a number of different flavor profiles very well. Here are some of our favorites.
Keto BBQ Sauce – Make your own sugar free BBQ Sauce.
Mexican – top with guacamole, 1-2 tbsp of sugar-free salsa, olives, and jalapenos. Sour cream goes well, too!

Jueves Rancheros – Heat a couple of ounces of pork and top with fried or scrambled eggs, cheese, and 1-2 tbsp sugar-free salsa.

Caesar – Our superfood Caesar Fat Booster Dressing is awesome on pork!
Italian-ish – Top it with our fat booster Alfredo Sauce…heck, I put the Alfredo Sauce on my veggies too.
Wrap – We love Folio Cheese Wraps! Heat the pork and set aside. Microwave the wrap separately for a few seconds, add the pork, some mayo, and fresh spinach.
Instapot – Amazon Affiliate Link
Instapot Pulled Pork Recipe
---
---
Easy Pulled Pork Recipe – Keto Meal Prep
So tender it falls apart, this pulled pork is fantastic for so many different meals. Make it ahead and change it up all week long!
Print
Pin
Rate
Servings:
24
3 oz. servings
Ingredients
8

pound

pork shoulder roast

bone-in

1

tbsp

olive oil

1

small

Onion

2

small

garlic cloves

2

cup

bone broth

2

tsp

pink sea salt

1

tsp

black pepper
Instructions
Trim the pork roast of excess fat. Just remove some from the thickest parts of the fat layer, leaving some fat for flavor. Liberally salt and pepper the whole roast.

Set up your Instant Pot and plug it in. Turn it to the Saute setting. Drizzle olive oil in the pot and let it heat up for one minute.

Place the roast in the pot. Brown each side for 3-4 minutes per side. If you don't have time to brown the meat, don't worry about it. Just put the roast in and move to the next step!

Quarter the onion and mash the garlic cloves. Add to pot, along with broth.

Assemble the lid and lock in place. Set the Instant Pot to the Meat setting. Set time to 75 minutes.

When time is up, let the Pot naturally release the pressure.

Carefully remove lid. Remove the roast to a storage container. Let rest for 10 minutes.

Pork should be very tender. Remove the shoulder blade bone. (You can save it in the freezer for your next batch of bone broth!)

Pull the pork to shred. Serve immediately or let cool and store for meals throughout the week.
Notes
Nutrition information is for a 3 ounce serving of pulled pork.
---
Alternatives to the above Instapot Pork Roast
While I love the Instapot, you don't have to have one to make pulled pork.
Crockpot Pulled Pork – Follow the basic recipe above, but cook the Pork Shoulder in your crockpot on High for 6 to 7 Hours until tender.
Electric Roaster Pulled Pork – Follow the basic recipe above, but cook the Pork Shoulder in your Electric Roaster at 325 degrees for 4 to 5 hours until tender.
Conventional Oven – Follow the basic recipe above, but cook the Pork Shoulder in your oven at 325 degrees for 4 to 5 Hours until tender.
Meat Claws Affiliate Link
ProTip #1 – Save yourself some time and get some Meat Claws (pictured above) to shred your pulled pork quickly, easily, and without any burned fingers.
ProTip #2 – This pulled pork freezes really well.  Just break it down into either individual servings or enough for a week and pop it in the freezer.  Let it thaw for a few days in the fridge when you don't have time to meal prep.
---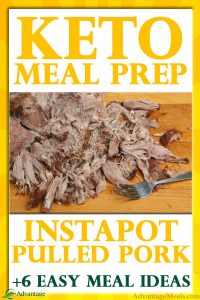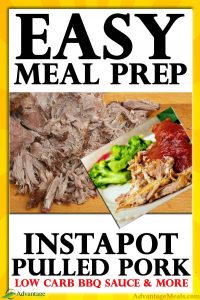 Nutrition – Not laboratory tested.
Nutrition Facts
Easy Pulled Pork Recipe – Keto Meal Prep
Amount Per Serving
Calories 146
Calories from Fat 63
% Daily Value*
Fat 7g11%
Cholesterol 62mg21%
Sodium 272mg11%
Potassium 319mg9%
Carbohydrates 1g0%
Protein 19g38%
Vitamin A 6IU0%
Vitamin C 1mg1%
Calcium 14mg1%
Iron 1mg6%
* Percent Daily Values are based on a 2000 calorie diet.
Love this recipe?
Please give it a rating in the comments below!