My family meal preparation business has been offering keto meals to our local clients for over a decade, and because of that, looking for new and unique dishes is always a top priority for us. One of my go-to keto ingredients is cream cheese. Soon it will be one of yours, too.
Cream Cheese is keto friendly.  With less than 1 Gram of Carbs per Serving, Cream Cheese is a ketogenic superfood as long as you choose the right brand!  Most Cream Cheese brands are high in fat and low in carbs while being incredibly versatile, being useful in keto entrees, side dishes, and even fat bombs.
Let's dig into this keto super-food, Cream Cheese
Are All Cream Cheese Brands Equally Ketogenic Friendly?
Be careful when you are buying Cream Cheese, and check the nutrition label.
For example, one of the most common Cream Cheese brands in America is Philadelphia Cream Cheese.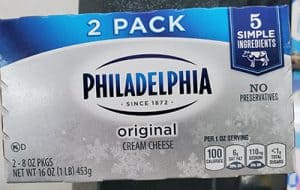 This brand of Cream Cheese is super keto-friendly. Take a look at the nutrition label below.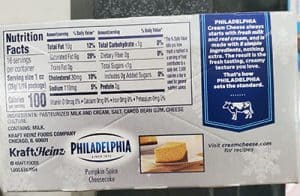 That Keto Super-Food has less than one gram of carbs and 10 grams of fat in a 1 ounce serving.  That's about 1 tablespoon of Cream Cheese!
On top of that great Fat to Carbs ratio, it is also low protein for those of us who have trouble hitting our fat macro without eating too much protein.
On the other hand, Walmart's store brand Cream Cheese is called Great Value and it's not as keto-friendly.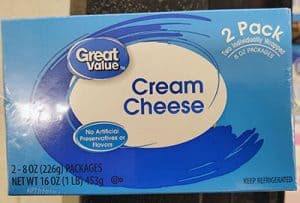 Check out the nutrition label on this Cream Cheese.  The same 1-ounce serving has just 9 grams a fat, and a relatively whopping 2 grams of carbs!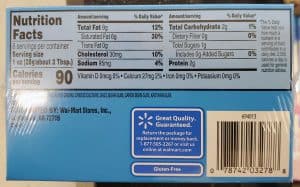 We can see the ingredient list on both packages of Cream Cheese, and from those, we can figure out that the extra carbs come from the more complex "stabilizers" used in the Great Value Brand.
So, when you are shopping for Ketogenic Cream Cheese, take a moment to glance at the nutrition label and make sure you're purchasing a lower-carb brand.
I also want you to know that I'm not recommending Philadelphia Cream Cheese as the best keto Cream Cheese.  If it fits within your budget, I'd encourage you to choose one of the organic and probiotic Cream Cheese brands available in the health section of most grocery stores.  Such high-quality food products are so much better for your gut microbiome.
"Cut spending on clothes, not food." ~ Angela
Is Cream Cheese A Good Fat?
The fat in Cream Cheese is great keto fat because it's nearly entirely a naturally occurring saturated fat.
If you then choose your Cream Cheese carefully, the quality of the fat goes way up.
For example, when you choose Cream Cheese that was made from milk of organically raised and pasture-fed cows, the milk that is used to make the Cream Cheese is cleaner and more nutritionally rich to start the process. All of that goodness just gets passed on to your Cream Cheese.
Then if you choose a probiotic Cream Cheese, you're going to get a food product that has more of the enzymes used to turn milk into Cream Cheese, preserving not only the 'live' nature of the food but transferring all of those enzymes to your gut to help you even better process that amazing keto fat.
Ways to Use Cream Cheese As Part Of Your Keto Diet
There are lots of ways to incorporate Cream Cheese into your keto diet.  Here are some of the ways that I use Cream Cheese around my house:
As a fat booster on top of meats.
As a thickener for sauces.
In meat and cheese wraps as a binder.
On Parmesan Cheese Crisps as an appetizer.
Mixed with heavy cream and herbs to create a dip.
Easy Keto Creamed Spinach Recipe – My Favorite Keto Cream Cheese Recipe
Keto Creamed Spinach
Creamed spinach is a great way to get more dark, leafy greens in your diet that tastes great and incorporates Keto-friendly fats. This family-friendly side dish is great for a weeknight meal or a holiday table!
Print
Pin
Rate
Ingredients
24

ounces

frozen chopped spinach

8

ounces

cream cheese

2

tbsp

onion soup mix

salt and pepper
Instructions
Place frozen spinach in a medium saucepan and cover.

Heat over medium-low heat, stirring frequently, until spinach is mostly thawed.

Cut cream cheese into 4 pieces and stir into spinach.

Cover and continue to heat over medium-low, stirring frequently, until cream cheese is melted and incorporated through the spinach.

Stir in onion soup mix. Salt and pepper to taste.
Nutrition - Not laboratory tested.
Nutrition Facts
Keto Creamed Spinach
Amount Per Serving
Calories 148
Calories from Fat 117
% Daily Value*
Fat 13g20%
Cholesterol 42mg14%
Sodium 406mg17%
Potassium 463mg13%
Carbohydrates 4g1%
Protein 3g6%
Vitamin A 13805IU276%
Vitamin C 6mg7%
Calcium 187mg19%
Iron 2mg11%
* Percent Daily Values are based on a 2000 calorie diet.
Love this recipe?
Please give it a rating in the comments below!
So, Can I Eat Cream Cheese on A Ketogenic Diet?
As you can see, you can eat Cream Cheese on a Keto Diet. 
It would probably be better to say that you SHOULD be eating Cream Cheese on a Keto Diet.  It's such a versatile ingredient that's going to help you hit your fat macro goals while not blowing past your protein target.
~Angela