3 Week Keto Challenge – Starting a Keto Diet Made Easier
What is the 3 Week Keto Challenge?
The 3 Week Keto Challenge is a personal challenge where you choose to commit to three weeks of strict keto.
During these three weeks, you'll aim to hit your ketogenic macros daily, as well as follow the other Rules of Keto.  Each day you will self-assess your success and make adjustments to win the next day.
You can take the 3 Week Keto Challenge at anytime of the year!
However the Official 3 Week Keto Challenge dates are Saturday, January 12, 2019 through Friday, February 1, 2019. During the official 3 Weeks Keto Challenge, we offer additional support in our newsletters and we post our own experience and results in the 3 Week Keto Challenge Group on Facebook.
You can start your own 3 Week Keto Challenge at anytime.  However, we hope you can join us for the official 2019 keto challenge.
If you missed the official 2019 challenge, be sure to signup for my newsletter so you are invited to next year's official 3 Week Keto Challenge.
Why should you take the 3 Week Keto Challenge?
If you want to lose weight, whether you have a large amount of weight to lose or just a few extra pounds from the holidays, a ketogenic diet is the easiest way to lose weight. Commit to the 3 Week Keto Challenge, and you'll be well on your way to achieving your goals!
Are you tired all the time?
Do you have achy joints?
Would you like to be more focused and more productive?
Or do you just want to lose some weight?
All of these conditions and more are improved by ketosis. The 3 Week Keto Challenge will help lessen your dependence on carbs and get you started making ketones, which will help you feel better!
How can I help you succeed with your 3 Week Keto Challenge?
My biggest joy and my passion is to help people just like you find better health through a better way of eating. I really want to help you, too.
When you commit to the 3 Week Keto Challenge, I'm going to give you access to the following resources to make it all easier.
Printable 3 Week Keto Challenge Calendar (get it below)
Optional "Upgrade Your Keto ProTips" (sent out in our newsletter as the challenge approaches)
Invite you to my closed "3 Week Keto Challenge Group on Facebook" (Only During the Official Challenge Dates)
The printable calendar is designed to go on your refrigerator. Each day you mark the check boxes for macros (Fat, Protein, Carbs) and self-assess your adherence to the other Rules of Keto.
The optional keto upgrades will make your keto diet more effective and efficient, but they do take a little more work. If you are in a place where this makes sense in your life, I encourage you to upgrade your keto. If some of the upgrades are too much right now, don't worry about it.  Just take what fits your life and leave the rest.
Finally, the closed 3 Week Keto Challenge Facebook Group is where I and my husband are going to share our 3 Week Keto Challenge experience. If you want to see what I'm eating everyday, how I'm doing on the challenge, and see my before and after pictures, you'll want to join the group on Facebook. The group is only for the 3 Week Keto Challenge, and once the challenge date has passed, we'll archive the group.
What Keto Meal Plan should you follow?
This challenge doesn't include a specific 3 week keto meal plan because we know that people with different levels of ketogenic experience will be joining us in our challenge.
If you are just starting a Keto Diet, we have a few options for you.
Option #1 – The No Cook Keto Meal Plan includes a 3 Week Keto Menu, Recipes, and Shopping Lists.  It also includes a Keto 101 Email Series to help you learn the Keto Basics and upgrade your keto diet through the three weeks. You can get all this for $14.95.
Option #2 – Free 1 Week Meal Plan.  We will give you the first week of No Cook Keto, including the Week 1 Menu with the 10 pages of samples.  It's free and you'll find the signup near the end of the page linked here.
Option #3 – We have a lot of Easy Keto Recipes here with the Macros figured.  All the recipes are free.  If you find these recipes helpful, please do us a solid and leave us a comment and share the recipe with others.
Option #4 – We have lots of boards on Pinterest where we've found and sorted lots of great keto recipes. Follow us on Pinterest and find recipes that will work for you!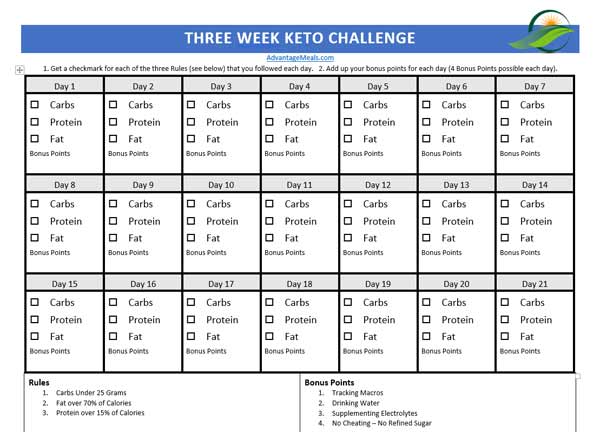 Who should take the 3 Week Keto Challenge?
There are three main groups of people who should take the 3 Week Keto Challenge. Which of the following do you want?
To Start a Keto Diet
To Revive a Keto Diet
To Inspire Others to try Keto
To Start a Keto Diet
If you are a Ketogenic Beginner, the 3 Week Keto Challenge is a good way to start your Keto Diet.
If you've been following me for awhile, you know that three weeks flows through much of my work.  The Rules of Keto are for the first three weeks of your keto diet. My No Cook Keto Meal Plan is for three weeks. The Steps to Start a Keto Diet are designed around three weeks.  It's always three weeks, but why?
While most people can get into ketosis in a few days, some take a little longer. Through helping countless people start a keto diet, I've found that three weeks gives nearly everyone the time they need to make the transition into ketosis and settle into their new way of eating. Three weeks will give you time to make the transition, get used to your new wonderful keto foods, and let your body adjust to burning fat as its primary source of fuel. But three weeks isn't so long as to feel overwhelming. It's just three weeks. 21 days. You can do this!
Three weeks is the keto sweet spot.
To Revive your Keto Diet
You've heard me say again and again, there is no one right way to keto. But let's be honest, there are some wrong ways. And over time we all slip from the keto diet that works best for us. Or maybe keto just hasn't made sense in your life recently, but you are ready to get back to feeling better again.
Stress in my life recently has led me to let go of anything that wasn't necessary, and my keto macros and tracking my food intake were not necessary for me. So I let my keto slide and that slide got more pronounced during the holidays. This year (2018) I did a pretty good job staying keto throughout the holidays, but my calories did increase and so did my weight.
On the other hand, my husband decided not to stay Keto over the holidays. And he also ate more than normal, just like me. He's still a handsome man, but we both know that there's a little more of him to love now than there was a month ago.
We both need to revive our Keto way of eating.  We'll both take three weeks to rebuild our keto foundation and then we'll move into the new year feeling great and ready to change our world for the better! I'm looking forward to not feeling bloated all the time, having more mental clarity and focus, and sleeping better. As a nice side effect, we'll both effortlessly drop those few extra pounds during our three week challenge and avoid the creeping on of extra pounds that we've all experienced in the past.
To Inspire
It feels a little grandiose to declare that you plan to inspire others.  However, this is a valuable reason to do the 3 Week Keto Challenge and it's too important to leave unsaid.
When I discovered the Keto / Primal Diet I also discovered a better life for me.  My success inspired my husband, who is now so much healthier and happier.  And I know so many other people that I wish would try a keto way of eating; friends and family who I know are struggling with the discomfort and pain of extra weight and chronic inflammation.
The 3 Week Keto Challenge is a great way to inspire others to explore keto without being preachy. Instead of preaching keto, you can just let them in on your challenge…the successes and the shortcomings.
You can share pictures of your 3 Week Keto Challenge Calendar on Facebook, Instagram, Reddit, or anywhere else you post. Use the hashtag #3WeekKeto every time you post. You can take before and after pictures (we nearly all have a little holiday bloat going on right now) and measurements to share, too.  Put yourself out there as much as you're comfortable with. You might change someone's life.
How to sign up for the 3 Week Keto Challenge
Sign up for the newsletter below
Download and print the calendar below
Join the 3 Week Keto Challenge Group on Facebook
Join the 3 Week Keto Challenge Group on Facebook.
If you'd like to see our progress, join us in the 3 Week Keto Challenge Group on Facebook.  We'll post food pics, recipe ideas, photos of food logs, our macros, and everything else we're doing to be successful during our own Keto Challenge.
Want a head start on the Keto Challenge?
Check out these great resources to rock your Keto Challenge.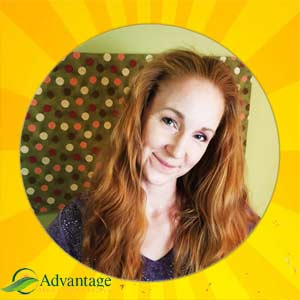 Angela Davis
Founder Advantage Meals
Angela earned her Master's Degree in Holistic Nutrition 14 years ago and began her lifelong journey of nutrition and wellness learning.  She began keto meal planning and cooking over a decade ago when she began working with local clients who were under the direct supervision of a medical doctor.  Angela is the author of No Cook Keto, the easiest keto meal plan available.
Disclaimer: I am neither a licensed nutritionist nor medical professional.  I never prescribe diets.  I only share my personal experiences and those of my clients for informational purposes only.  Nutrition details are provided for informational purposes only, and should not be considered medical nutritional data. You should consult your medical professional before making any major changes in the way you eat.