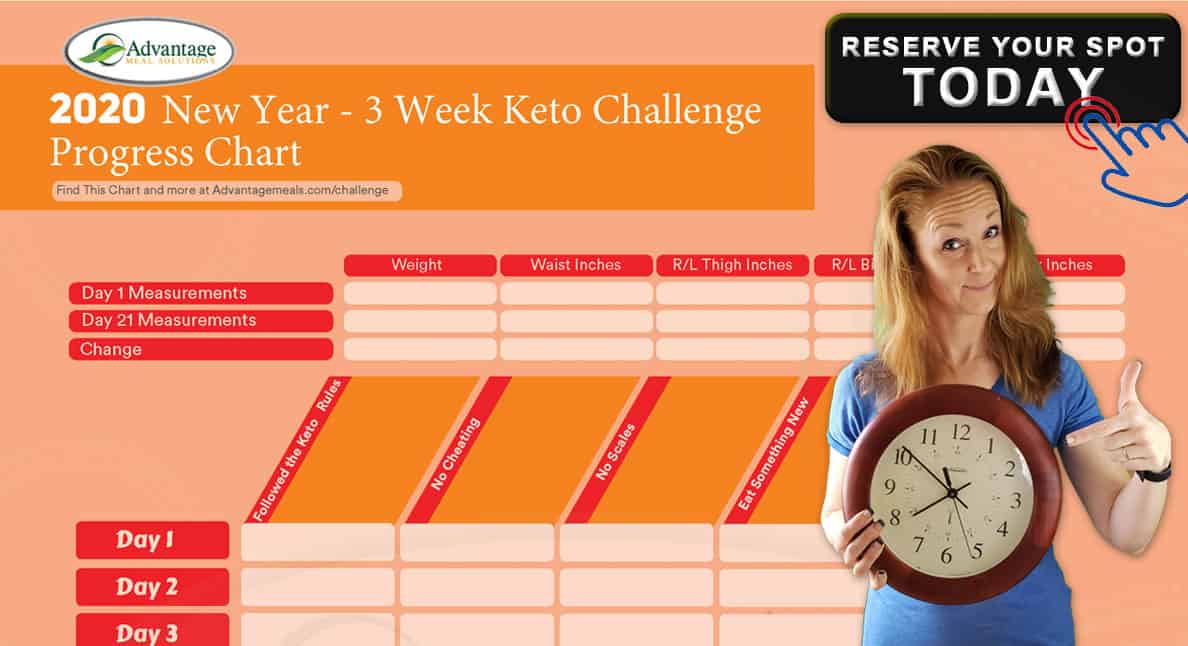 There is No Current Official Challenge.  Be sure to signup for my emails to hear about future challenges! ~Angela
The 2020 New Year 3 Week Keto Challenge starts on
Monday January 6th, 2020.
You Deserve to Be Healthy & Happy!
What is the 3 Week Keto Challenge?
The 3 Week Keto Challenge is a personal challenge where you choose to commit to three weeks of strict keto and join a group where we inspire and hold each other accountable.
The challenge actually lasts 28 days. There is one week of preparation and then 3 weeks of eating strict Keto.
I will act as your guide and help you through the hard days.
You will be invited to join my closed group on Facebook where you will make new keto friends who will support you as you crush keto.
You'll receive daily emails during the challenge to grow your keto knowledge in just a few minutes each day.
When is the 2020 New Year Challenge?
The Prep Week Starts Monday, January 6, 2020.  Enjoy the holidays, then let's crush keto together.
After the prep-week there are three weeks of strict keto challenge.
At the end of this challenge, you'll not only have upgraded your diet and life, you'll have the opportunity to win a $50 Amazon Gift Card if you share your results and before & after (face only) pictures.
What does it cost?
The challenge is FREE! There is no cost to participate, receive the emails, or be part of the support group on Facebook.
However, if you are new to keto, I hope you'll consider using my No Cook Keto Meal Plan & Cookbook for at least part of the three-week challenge.  You can be successful in the challenge as a keto newbie doing it all alone, but if you want to crush keto and know once and for all if keto is right for you, the meal plan will make it so much easier and less confusing. Give yourself every advantage to succeed.

The 3 Week Keto Challenge Rules
Follow the Rules of Keto
No Cheating
Take Before & After Pictures and Measurements (Just for yourself)
No Scales During the Challenge (Only before and after)
Eat Something New Each Week
What challenge resources will you get?
As the challenge approaches I'll email you the following resources to help you crush your keto challenge:
An Invitation to my closed 3 Week Keto Challenge Group on Facebook where you'll make 1,500 Keto Friends.
Daily Support Emails to help you through the challenge.
Free Printables to help you honestly measure your results at the end of your three week challenge.
Why should you take the challenge?
If you want to lose weight, you should do it the easiest way.
The easiest way to lose weight is a low carb diet.
The easiest way to do low carb is keto.
The easiest way to do keto is with No Cook Keto and with some keto friends.
Still not sure if keto is for you?
Are you tired all the time?
Do you have achy joints?
Would you like to be more focused and more productive?
Or do you just want to lose some weight?
All of these conditions and more are often improved by the Keto Diet. The 3 Week Keto Challenge will help lessen your dependence on carbs and get you started making ketones, which will help you feel better!